As told by TomFulp
In 2002,
DanPaladin
and I made a run 'n gun web game called
Alien Hominid
. The following year, the video game company Dan was working at in San Diego shut down. One of his co-workers, John, came to Dan and said we should start a company and make a console version of Alien Hominid. It was released in November of 2004 and we're really proud.
Hot off a plane from San Francisco, where Alien Hominid won some awards at the
Independent Games Festival (IGF)
, April and I arrived at the Austin Convention Center, where I was scheduled to give a 7:30 talk about Alien Hominid for South by Southwest. It was Friday, March 11th and this was my first big public speaking appearance. With the exception of some high school classrooms, I've never told the story to an audience before.
The cool thing about this weekend was that I had one big obligation Friday night, followed by two days of zero responsibility in Austin! I didn't have a laptop and smartphones weren't invented yet, so this was one of those extremely rare moments in my life where I was completely free of any work obligations and could just chill out.
Behind the podium, with a goofy look on my face.
Discussing the figurines afterwards.
The talk went well! On-line news site Austin360 counted 150 visitors in attendance. I managed to actually fill 45 minutes by talking about the story behind Alien Hominid and I managed to keep it in chronological order! I was nervous for months leading up to this night. It's really hard to just talk about something for 45 minutes without the one-on-one feedback of a conversation.
After the talk, Q&A was also a success. I was able to answer the questions and no one got up to leave the room (which I see happen a lot in other talks during Q&A). They eventually had to kick us out of the room at 9pm because the convention center staff doesn't like the rooms to be occupied at that point. A group of attendees hung out afterwards in the hallway to continue discussions on AH, Newgrounds and the game industry in general. I gave free copies of AH to the guys who hung around the longest. We didn't leave the convention center until 10:30pm!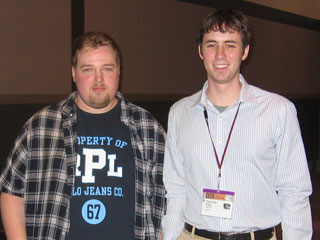 NG mod gfoxcook came to the talk.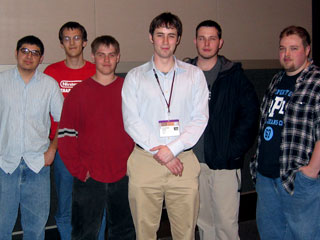 The "after-hours" gang!
April and I had a ton of bags with us, so we went back to the hotel room and checked in. We hadn't eaten since breakfast, so we went to 6th street (Austin's "hot spot") to grab some grub. We checked out a SXSW party for the new Wilson brothers' movie. Apparently, Owen Wilson was there. The party was extremely crowded and I'm not a big fan of pushing my way through people, so we left after a matter of minutes.
In a really cool coincidence, April and I were just walking down the street when two guys approached us. One of them (Dave) was like, "Tom Fulp from Newgrounds!" It turns out they came into town to see me speak at SXSW, but got stuck in traffic. There was a massive accident on one of the highways into downtown. I wonder how many other people may have tried to come, only to be stuck in traffic? We went to a brewpub called Lovejoy's and I was a total fan. It had a similar vibe to Sugarmom's and Nodding Head, two of my favorite Philly bars.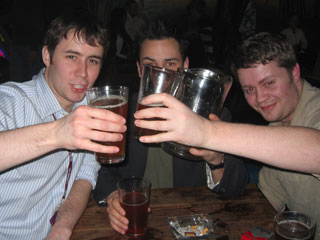 Pounding beers with Ed and Dave!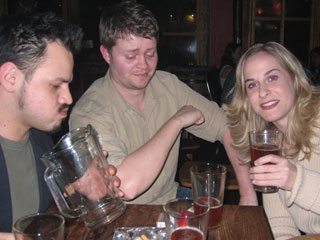 Might be time to slow down.
The weekend wasn't a total vacation - I did attend a lot of talks at SXSW. The first panel I attended was "Blogging without Borders: Bridging the Digital Content Divide", featuring my boy Sean Bonner as a panelist! If you are unfamiliar with Sean, he was the creator of the infamous
Elian - Wazzup!!!
video. He has since gone on to be involved with some groundbreaking blog sites; blogging was the HOT THING this year. It was great to see someone from the NG community speak on a panel!
Sean Bonner speaking on a blog panel.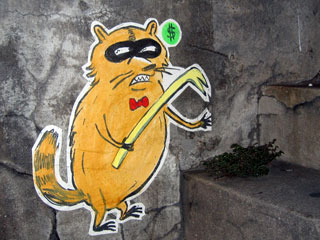 Some entertaining street art.
Having announced on NG that I would be in Austin for the weekend, I received an invite to attend a Saturday night installation art show known as "Open Doors Downtown". The invite came direct from the organizer, Hunter Cross! I regret not taking any pictures with Hunter ('doh!), but I did take lots of pictures of all the cool art.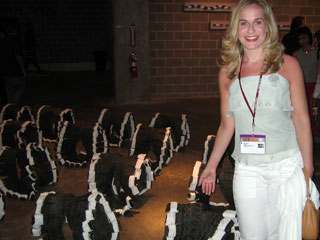 You might see a bunch of tires...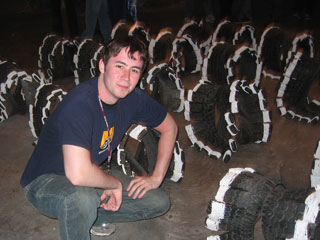 I see a statement on consumption, road waste and durability!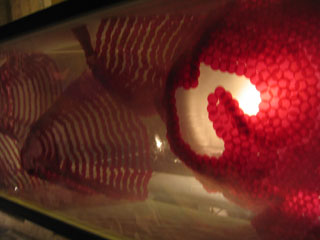 A reflection on emergent behavior of natural populations, of course!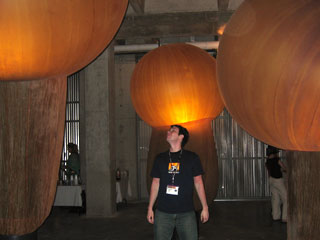 An example of the ever-changing nature of life itself.
April and I got a kick out of a set of vanities where each mirror was a video projection of the other vanity mirror. If you held a hand mirror in front of yourself, it reflected the video image from your screen. Therefore, if April held a mirror in front of herself, I could see myself in her mirror from my side of the room. Am I making any sense with this description?!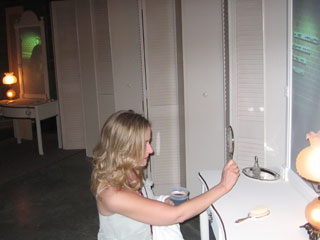 April takes a moment to check her hair and makeup.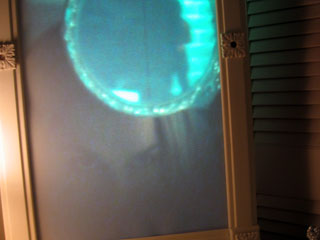 My reflection is in the mirror that April is holding. Creepy!
We really did want to hang out with Dave and Ed some more, but our plans for the evening involved a bunch of SXSW parties that required access badges. We had gold badges since I was a speaker, so we had really good access to everything. Our first stop was the Milkshake Party at Lucky Lounge. It was kinda crowded, so we decided to move along and grab some dinner. Our next stop was the SXSW Interactive opening party, at Frog Design. We met a guy named Clint who was there by himself; we teamed up for the evening.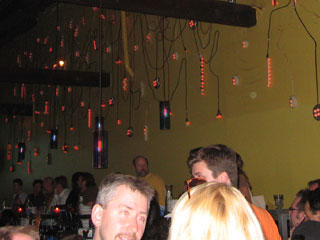 Milkshake Party at Lucky Lounge.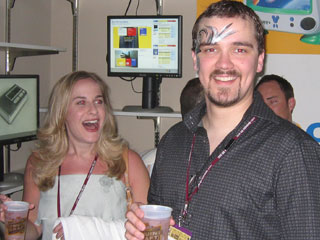 Clint knows how to party.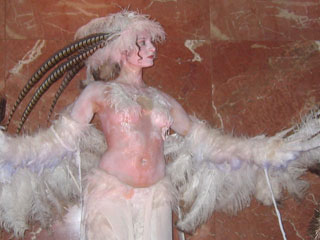 Woah! Naked chicks with feathers!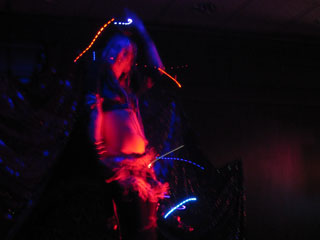 Crazy dancing girl with flashy lights.
I spent most of the opening party waiting in line for the bathroom. Slowest line ever. The opening party was over at 10PM, so we moved along to the AMODA Digital Showcase at Copa Bar. We walked in to find a sad looking girl banging on a xylophone. I was like, "Oh great, another sad girl with a xylophone", but then she started singing and it was good! I bought a copy of their CD, they are called "Ice Cream Creatures". It isn't available on Amazon, but it should be! Some other guy came out afterwards and he was cool too... I think his name was E*Rock, but he didn't have a CD for sale.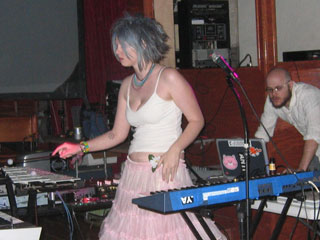 Ice Cream Creatures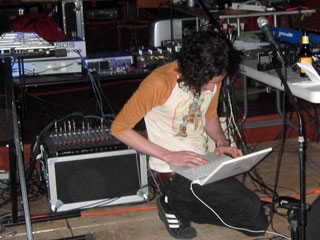 E*Rock, jamming on a keyboard. A laptop keyboard.
Our final stop for the evening was the opening party for Hooligans, a new movie starring Elijah Wood. Clint didn't have the proper access level on his badge, but April and I managed to get him in. This party was great because it wasn't too crowded and none other than Elijah Wood was hanging out! April and I acted like total dorks, but we got pictures! I also made sure Elijah got an Alien Hominid postcard.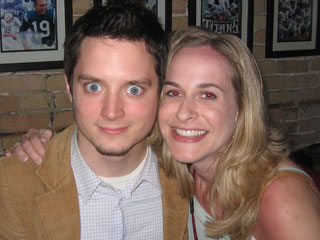 Frodo!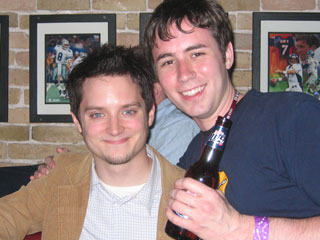 Kicking back, drinking beers, joking around. Good times.
Sunday was like going back to school! I attended a class titled, "The New New Economy: Is 2005 the next 1997?" as well as the Malcom Gladwell Keynote Speech and a panel on "How to Grow Online Community", which I really should have been invited to speak on, dammit. I also bumped into Bram Cohen, the creator of BitTorrent. His buddy was a big Newgrounds fan who immediately introduced us. I don't think Brad has been to the site, but maybe he'll check it out now!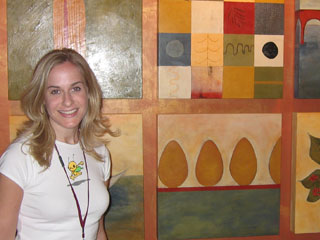 April sports her Alien Hominid t-shirt!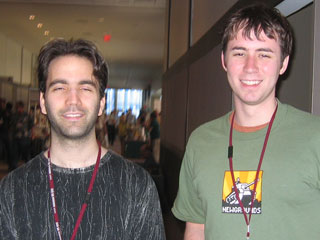 Bram Cohen, the creator of BitTorrent!
April and I had an invite to the Palindromes after party at the Velvet Spade. Palindromes is another movie that premiered at SXSW and the party rocked. You can't go wrong with plenty of outdoor space and free beer. It had gotten a bit chilly out; luckily I was wearing my ultra-cool Behemoth long-sleeve shirt, complete with embroidered chicken logo!
We were delighted to bump into David Krumholtz! David currently stars as the math genius in the show "Numb3rs", but my memory of him goes back to Addams Family Values and Slums of Beverly Hills. I've always thought David was cool in the movies and he is just as cool in person. He really liked the Alien Hominid postcard, his first question was if I was the animator (too bad Dan wasn't there)! He also gave me a flyer for his new movie, "Max & Grace", where he is reunited with his Slums of Beverly Hills co-star Natasha Lyonne. I'll definitely be checking it out!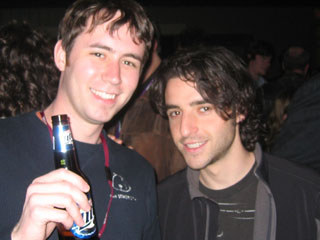 Flaunting my Miller Light in front of David Krumholtz!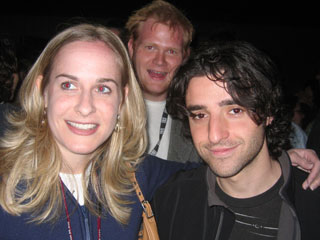 April tries to play it cool.
After the Palindromes party, we headed to the web awards after party. We had skipped the web awards because the IGF awards show was enough for one week! At the web awards, we bumped into a couple from Electronic Arts who had attended my Alien Hominid talk. They had never heard of Alien Hominid or Newgrounds before, but now they owned a copy of AH and loved it. They still hadn't checked out Newgrounds, but maybe they will now. It is cool to know my talk was able to help spread the word!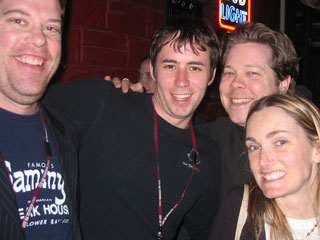 Left: Web award winner for best CSS. Right: Couple from EA.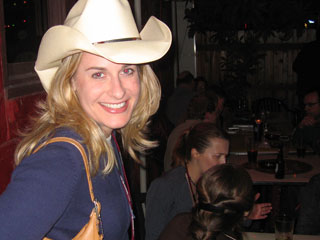 April looks purdy in her cowboy hat.
When April started wearing a cowboy hat, I realized it was time to get out of Texas. We left Monday morning. The only bummer of the weekend was that some of the panels I wanted to see weren't until Monday after we left. I missed out on meeting John Hargrave from
Zug
, one of my first favorite websites. I also missed out on finally seeing the creators of Homestar Runner, who were also giving a talk. Oh well.