As told by TomFulp
In 2002,
DanPaladin
and I made a run 'n gun web game called
Alien Hominid
. The following year, the video game company Dan was working at in San Diego shut down. One of his co-workers, John, came to Dan and said we should start a company and make a console version of Alien Hominid. So we did.
Alien Hominid had the honor of being one of the ten finalists in the Bawls Independent Game Competition at Slamdance 2005 in Park City, Utah. We also had the distinct honor of being the only console game in the running!
Also known as "The BIG-C", the event took place over the weekend of January 21st-24th. We were stationed in the lobby of the Treasure Mountain Inn, where Slamdance visitors could pass through and play some games in between film screenings. We had a nifty little set-up in place, complete with free swag!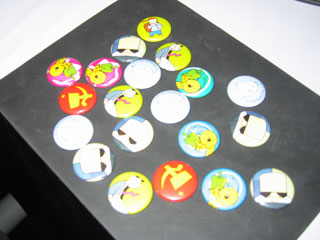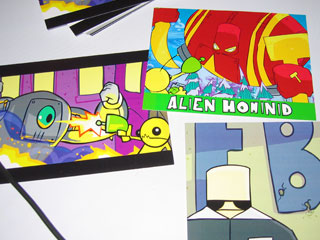 We were giving away buttons and postcards. The buttons were a big hit, while the postcards were easy to pass out to people as they entered the screening rooms. We planned to mail ourselves cards so we could have the postmark as a souvenir, but unfortunately we never got around to it. :(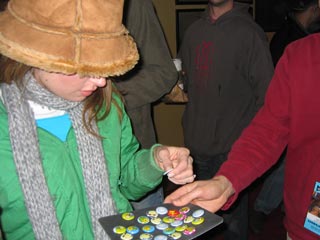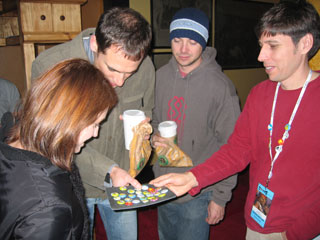 The other finalists were all very cool. We got to share a lot of thoughts and ideas, while drinking tons of beer. Some of our favorite games were Revolved and Q'bicles, but all of the entries rocked!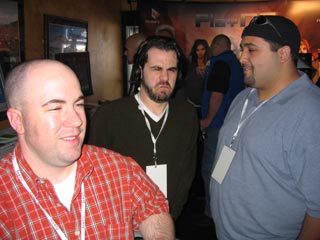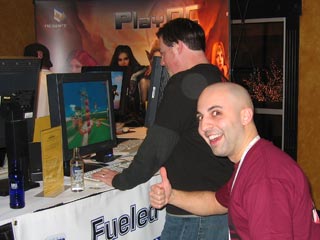 The best part, of course, was watching people play the game! Not since
Comic-Con
had I been given the chance to get so much feedback on AH and I had never experienced direct feedback to the final version. It is interesting to see how complicated some of the patterns can be for new players, as well as how players discover new boss-fighting methods that I never even considered. The feedback is great for future games, making it one of the greatest rewards for coming out to the competition.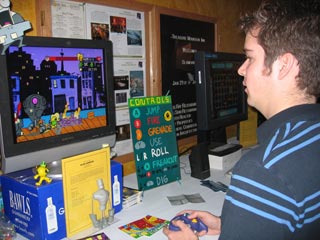 We also had some up-and-coming celebrities play the game! Below you will see Chip Godwin and Casey Strand from
The Dry Spell
. Chip won the Slamdance award for BEST ACTOR! The movie is hilarious, BTW.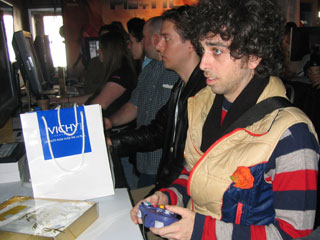 Finally, I got to meet some other really cool people. Below to the left are Rob and Mike from Penny Arcade (they are the biz dev guys and know how to party). To the right is Danny Trejo, that mean looking dude from Desperado and Dusk Till Dawn. I got to shake his hand! Now I wish I had taken a picture with him. I could have uploaded it to IMDB and cross-linked it like I did with
Trent Reznor
.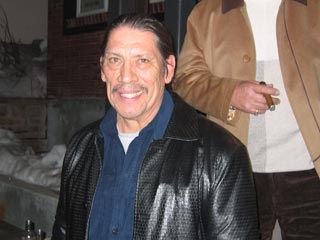 In the end, we had a blast. Alien Hominid didn't win, which was a bummer... I think there was a certain stigma about AH being a console game, but saying that makes me sound bitter and arrogant. The winner was Revolved, which was my favorite game there (next to AH, of course)! Considering we still haven't seen a dime from AH on retail shelves, losing the competition was sort of like getting kicked in the face after being knocked in the mud. But it was really fun nonetheless! Two days later I was on a plane to
London...