As told by TomFulp
The NG forum mods toil away on a daily basis to keep spammers and trolls at bay. They do it purely for the love of Newgrounds, cuz I'll be damned if I find a way to put them all on payroll! To show our appreciation, we booked a bunch of big rooms at the Embassy Suites in downtown Philadelphia and stocked the fridges with beer. Hey, it's the least we can do!
Andrea (Freakapotimus) did a wonderful job at arranging the meetup and getting everyone to come downtown for the weekend of June 17th. Twenty mods total made it out for the festivities!
Friday
We kicked off the weekend with FREE HAPPY HOUR at the Embassy Suites. All you need to fill your cup is a room key and we had them en mass! Free, infinite booze for two hours is the perfect ice-breaker, I must say.
CaptainBob and Stamper are all cuddly and fun.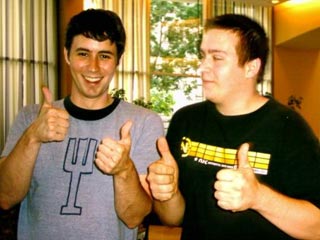 I show DarkArchon how "the Bedn" is done.
The Embassy Suites happen to be attached to a TGI Fridays with a rooftop bar, so when happy hour ended we stumbled on up to the roof for some outdoor excitement! From there we went inside for a feast fit for... a TGI Fridays customer. Hey, that ain't too shabby!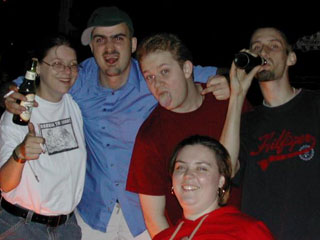 Partying on the roof.
RedCircle brings gang signs to the dinner table.
DarkArchon, Afro-Ninja and StarCleaver kicking back.
Passing around plates for appetizers! Oh yeah, we went all out!
Friday night was a jolly 'ol time. We ate, laughed and drank... In no particular order. RedCircle even made some new friends who gave him a welcome introduction to Philadelphia! Good times were had by all.
Saturday
Saturday was the big day. NegativeONE and poxpower arrived late in the middle of the night from Canada, so the gang was all here. Wade and I made it downtown around noon, giving everyone plenty of time to sleep off their hangovers and get spruced up for a big day out in Philadelphia.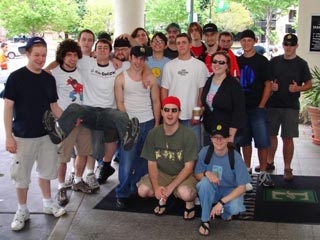 Family photo! Yaaay!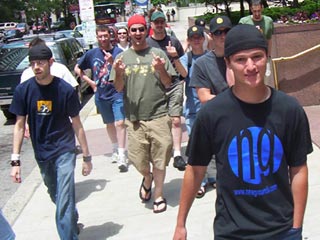 We are quite the wrecking crew.
Our first stop was the Mutter Museum, a showcase of medical oddities. Here you can see mutant babies in jars, the world's tallest skeleton and a whole lot of other sick crap in the name of science. Perfect for an NG day-trip!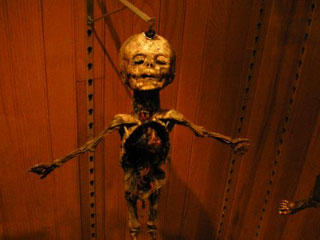 Dead baby corpses?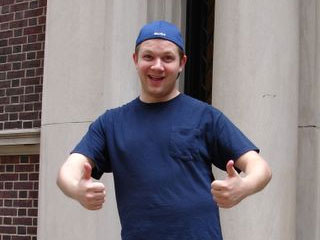 RedCircle can hardly wait!
You aren't supposed to take pictures in the museum, although we snuck a few. I don't want to ruin the fun, so that dried out baby corpse is all you get. What I can show are pictures of us hanging out on the front steps!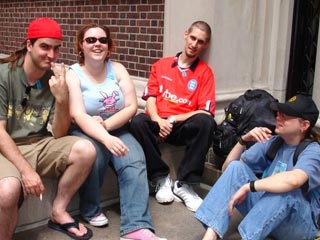 L-R: TheShrike, Andrea, TBF and Maus!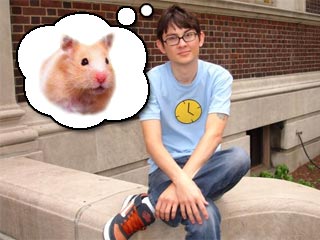 DanMalo, thinking about hamsters.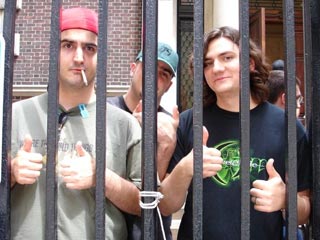 The plan was to Photoshop Bedn into these...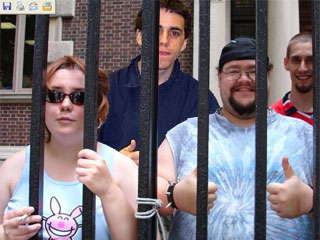 This is sorta an inside joke.
We decide to take the party down to South Street.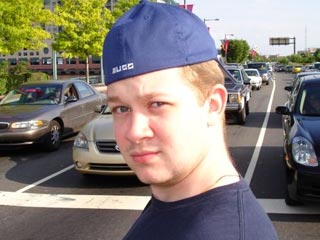 RedCircle gives a look that could stop traffic.
From the Mutter Museum, we made the long walk down to South Street for some lunch. I was originally planning to hit up Jim's Steaks (Pat's and Geno's are for stupid tourists), but the line was around the corner and Andrea recommended Ishkabibble's instead. Ishkawhatzle?!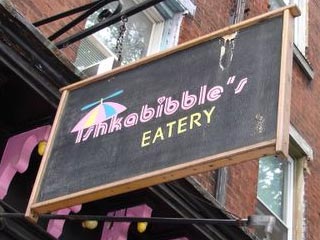 Lunch: Ishkabibble cheesesteaks.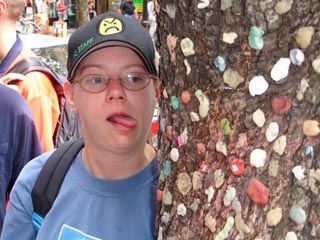 Maus is more in the mood for some gum.
South Street is a bit too congested for socializing, so we moved off the main strip to sit down, hang out and eat. We did a lot of sitting down and hanging out, but it doesn't make for good pictures so you won't see too much of it here.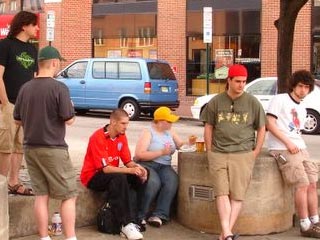 We take our lunch over to 2nd street to sit down.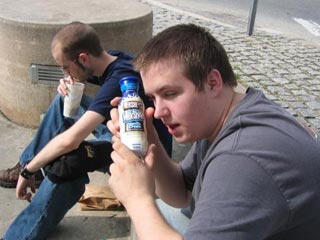 DarkArchon: "This milk is almost as good as mommy "
Hey everyone, check it out!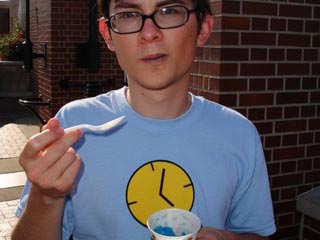 DanMalo looks like he has been blowing smurfs!
After lunch, we stormed some random bathrooms and started our slow advance towards the waterfront.
Wade and TheShrike. Hey! Who is that in the back?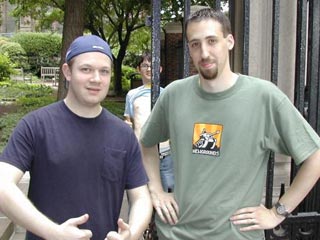 RedCircle and Wade... Hey! Not again!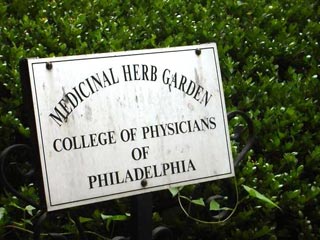 Aaaaawwwwwwe yeeeah!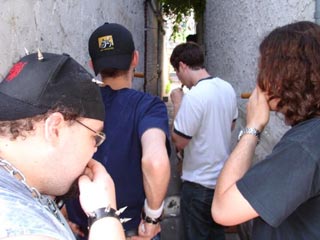 Time to take our medicine.
Ok, they are really just cigars.
Uberbarista enjoys a fine Cuban.
Philadelphia's waterfront is one of the most under-utilized city waterfronts in the world, I would imagine. However, it was a beautiful day and we actually took in some nice scenery, such as battleships and submarines. What we lack in waterfront dining we make up for with sheer military might!
CaptainBob by the water.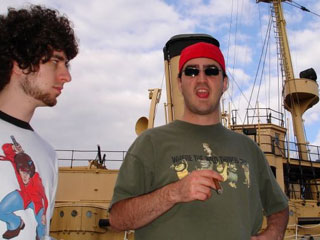 TheShrike belches for Afro-Ninja.
DanMalo small-talks our NG sys-admin, the one they call Tim.
Maus enjoys her cigar by the water.
Hanging out on the PL.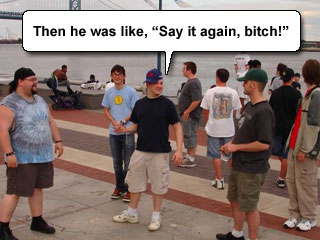 RedCircle entertains the crowd.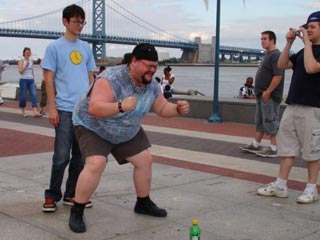 TheFunk drops the soap.
DarkArchon shows off his modeling moves.
We walked our asses off on Saturday, so it was time to give ourselves a break and take the subway. Our destination: The hotel, of course! It was time for another free happy hour!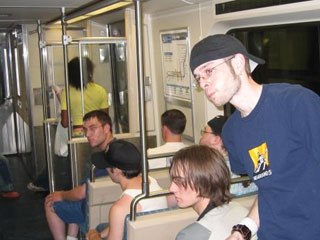 We decided to take the subway back to the hotel...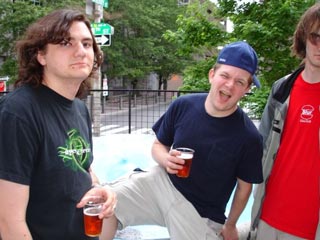 Time for another FREE HAPPY HOUR!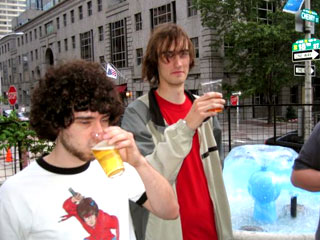 Afro-Ninja and NegativeONE are ready to DRINK!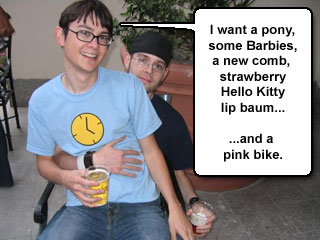 DanMalo is just too cute for words.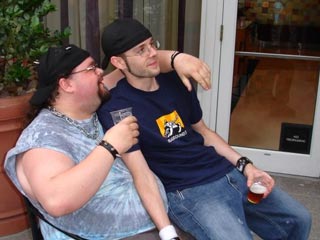 Hotel happy hour brings everyone closer!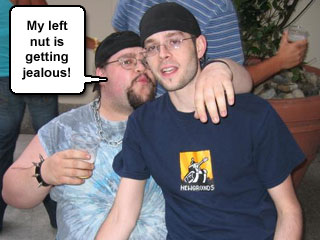 ...Maybe a little too close.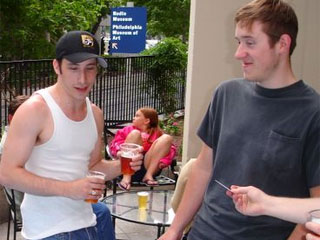 Poxpower needs a room key to get a beer.
RedCircle macks on some hoes.
It was a great day to drink outside, but Wade and I had to be on our way. Happy hour was ending and everyone was retreating to their suites, so we came up to take some final pictures and say goodbye.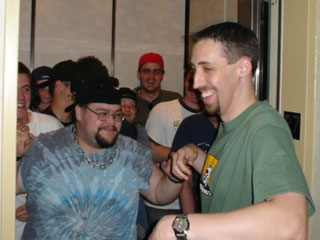 The elevator got a bit crowded.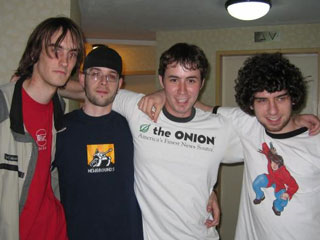 L-R: NegativeONE, Stamper, me, Afro-Ninja!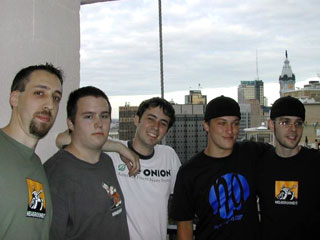 L-R: Wade, DarkArchone, me, StarCleaver, Stamper.
DanMalo, DarkArchon and poxpower on the balcony.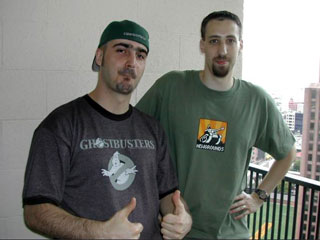 Uberbarista pulls a Bedn next to Wade.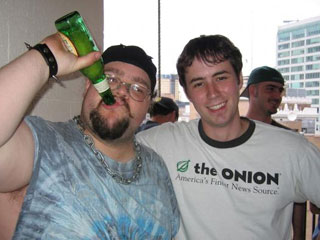 TheFunk pounds another down.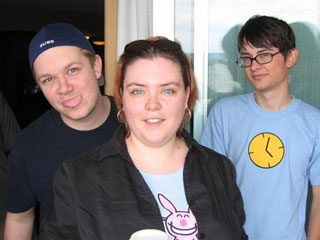 RedCircle, Andrea and DanMalo having fun.
CaptainBob listens to RedCircle jam out!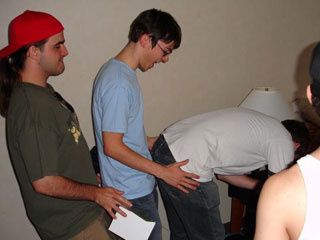 Things start to get out of control.
DarkArchon pulls another Bedn.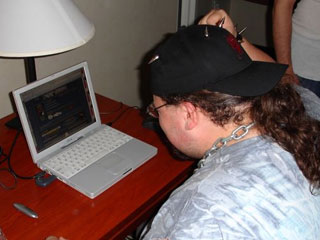 TheFunk tries to figure out this internet thing.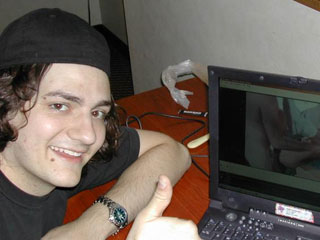 CaptainBob has it all figured out.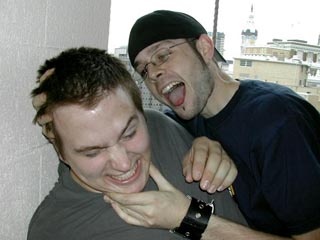 Stamper tries to give DarkArchon a kiss.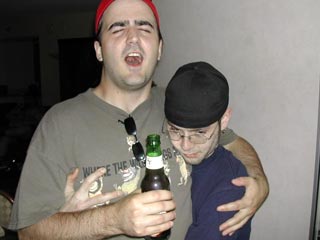 TheShrike enjoys a hug.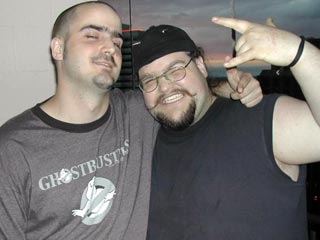 Uberbarista and TheFunk party hard!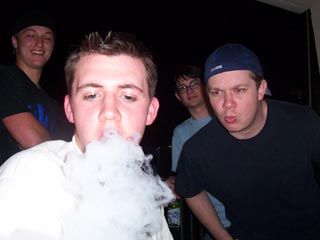 Where did that hookah come from?!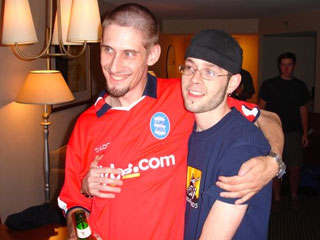 Stamper loves everyone, but especially TBF!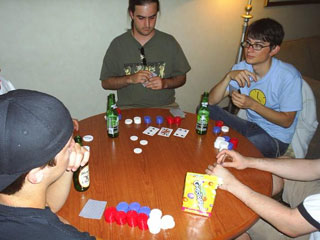 DanMalo pretends he can play cards.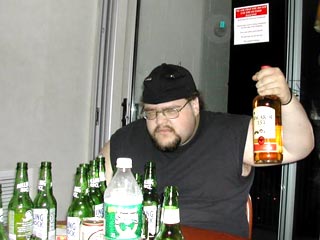 TheFunk decides to take things up a notch.
L-R: CaptainBob, DanMalo, Maus and aviewaskewed!
The hotel was a blast, even Shok made it out to say hi! On our way out, we brought DarkArchon to the car for a parting gift - a massive roll of NG stickers! You thought we would give him something that wasn't self-promotional?! NG stickers are like crack, man!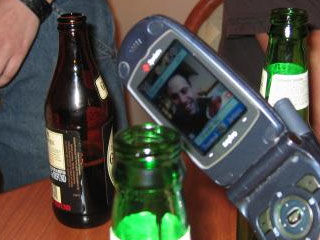 Shok makes a special appearance at the party!
DarkArchon is a little too happy to have NG stickers...
Sunday
Sunday was Father's Day, so I already had family plans and didn't make it out for the final morning. I was bummed to miss out on breakfast at Cereality, though. Cereality is a yummy cereal bar on UPenn's campus and I still haven't been there yet!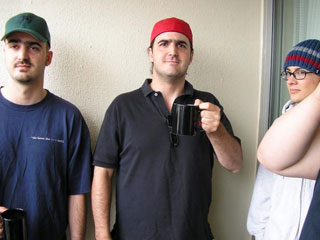 Sunday morning, time for some wake and bake!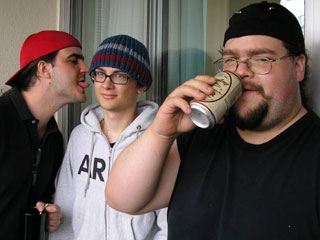 The morning beverage of choice.
Sunday morning: Cereality!
DanMalo and Maus debate the fair trade practices of Cap n Crunch.
Ok, I don't really know what all happened on Sunday besides Cereality but I assume everyone went home after having breakfast and hanging out for a bit.
Thank you everyone who came out. We're gonna make this a yearly tradition now, so being an NG Mod has some definite perks! Free happy hour forever!