A lot of Newgrounds visitors aren't aware that I am also a co-founder of and programmer for
the Behemoth
, the console game development company responsible for
Alien Hominid
. Following the success of AH, we secretly began developing our new console game featuring medieval knights, partly inspired by
Dad 'n Me
, a brawler Dan Paladin and I created here on Newgrounds.
Having been in development for several months, it was time to start shopping our new game to potential publishers. The Game Connection in Lyon, France provides an opportunity to sit down with numerous publishers in a short amount of time, making it a great resource for game developers. During the three day event, we would have meetings with almost 30 different publishers.
NOTE: I wrote this in 2005 so keep that in context while reading. The game I was referring to is Castle Crashers and we ended up self-publishing. While Castle was in development we also made Alien Hominid HD for XBLA to keep the lights on. After much persistence by John we were given the OK to self publish our games. You could say we broke
new grounds
for indie publishing on consoles.
I left the Philadelphia airport on Saturday, December 3rd and met up with John (fellow Behemoth co-founder) in Lyon on Sunday afternoon, after a chaotic layover in Madrid. We checked in at the Lyon Hilton (pronounced "eeel-ton" by the French) and dropped off our bags. I was delighted to see there was a "Le Bar" in our hotel - just like in cartoons!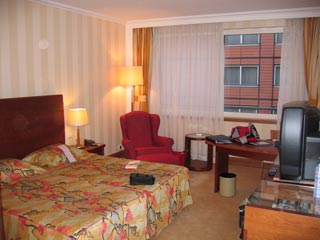 Our nice-enough hotel room with adjoining beds.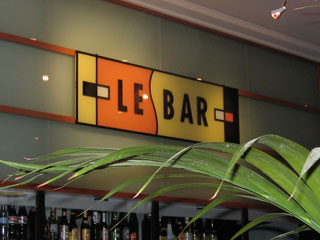 Yes, it is actually called Le Bar.
We spent Sunday evening touring Lyon, eventually having dinner at Le Sud. We were starving by the time the restaurant finally opened. You can't grab dinner at 6 O'Clock in Lyon, the typical diner doesn't go out to eat until 8 or 9! Additionally, restaurants don't expect to have more than two seatings at any one table per night. People tend to sit at their tables for much longer on average than in the US, sipping wine and talking, apparently. I like sipping wine and talking, so I fit right in.
A wonderful ferris wheel in downtown Lyon.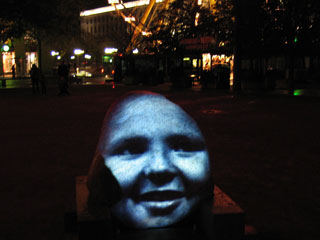 Yes, that is a video of a fat kid projected on a rock.
The following morning, we awoke bright and early to set up our "office" in the convention center. The center was very modern and hip, with indirect lighting on the ceiling, creating a warm and happy atmosphere. There were rows of offices, each housing an individual developer. The developers and publishers scheduled meetings in advance, based on a list of attendees. Publishers roamed the floor from office to office, occasionally looking for a place to stash their stuff, rather than carry it around to each 30 minute meeting. Our office was handy; it was right next to the bathroom.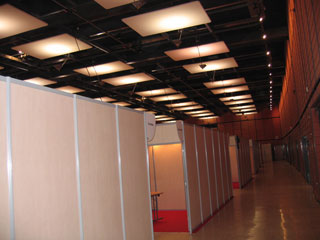 The convention center had nice lighting.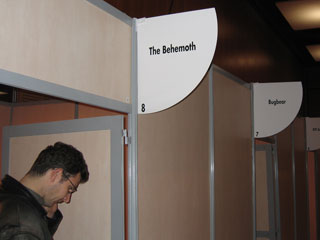 Our own personal meeting room.
We brought demo copies of the new game and set up a fancy banner outside the office. I've blurred out the name because we haven't formally announced it yet. To the press, it is known only as
"Ye Olde Sidescroller."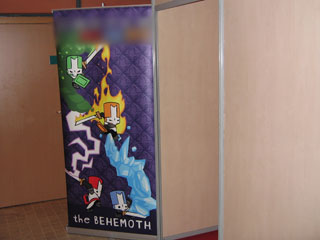 We had the coolest hallway promo, IMHO.
Look at them all, like candy.
The first day went by pretty quick, having a packed schedule of meetings. I was ready for a drink and Lyon was the perfect city to be in; wine flows like water! We met up with some friends John had made at the Tokyo Game Show and went to a wine tasting at a quaint little wine shop in the old part of Lyon. Amazing wine, served by an expert (a friend of one of our GC aquaintances), totally free. I thought I was dreaming.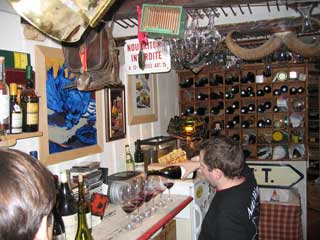 Just look at this place, so cozy.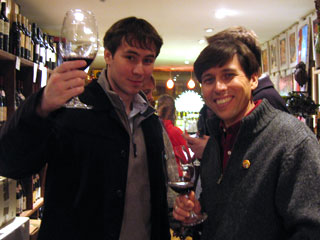 Yum, wine.
The owner of the wine shop was friends with a painter, who specialized in painting cows. It just so happens my sister-in-law LOVES cows, so I bought her a painting for Christmas! The tall vertical painting had already been sold, but I was pleased to discover the smaller painting nearby.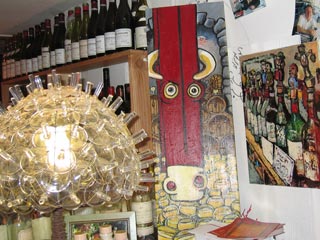 This cow looks serious about wine.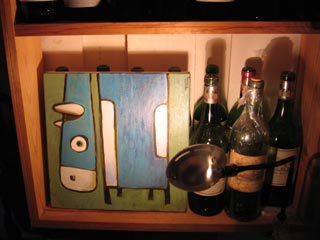 Merry Christmas, sis.
After the wine tasting, we stumbled over to an official Game Connection after-party at an old church. It was lit up with lots of red and blue, creating great ambiance for snacking and drinking more wine.
This old church was lit up real nice.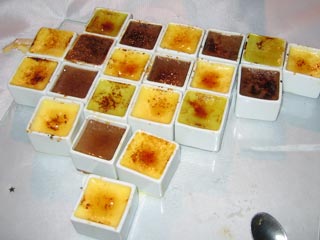 Check out all the mini crépes.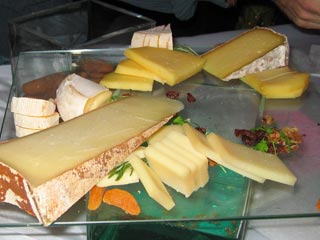 It would not be France without cheese.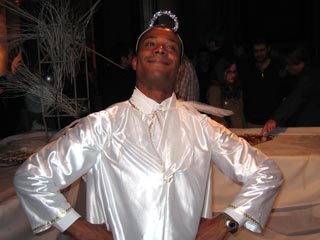 This man was very pleasant.
One of my most notable memories of Lyon was the walk back to the hotel every night. It was over two miles from downtown to our hotel; it made for a pleasant walk. We noticed many people rented public-use bicycles, which were scattered across town. We tried renting our own, but the machine was in French and would not accept our credit cards. That was a bit of a bummer.
Tons of rental bikes.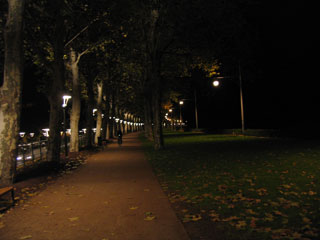 A long dirt trail leading back to the hotel.
I don't have many stories to share about our meetings, since that sort of thing is relatively confidential. Beyond the objective of finding a publisher, it was an opportunity to gauge publisher interest and make a list of which publishers we are most interested in working with. We learned a lot about what platforms publishers are most interested in. For example, there isn't much interest in the XBOX and Gamecube. Publishers are very trepidacious about the PS3 and XBOX 360, as expectations for the next generation platforms are very high, as well as the development budgets. Many consider the PS2 to have several years of life left and many take a hard line on the portables; they either think the PSP is the wave of the future or the DS holds the key to success. In fact, the portables seem to be what most publishers are interested in at the moment.
With that being said, here are some more pictures from Lyon!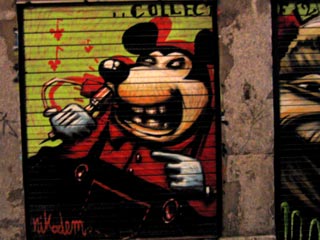 The French might not like Disney.
Coincidentally (or not), the Game Connection took place during the Festival of Lights in Lyon! This is a yearly celebration, where the entire city is bathed in colored lights. On the main night of the celebration, everyone burns candles in their windows. Say what you will about the French, but this was one of the most beautiful cities I've seen, at least during the festival.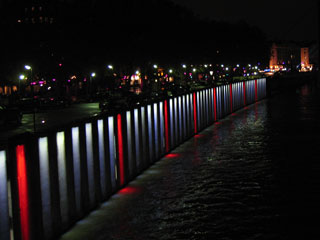 This could make a nice White Stripes album cover.
Lots and lots of colored light.
Light and music from the steam vents.
Crazy pussywillow lights.
There was also much activity on the main night, with people selling hot wine and crépes at every corner. That's right, hot wine, with fruit in it!
Nothing is more French that DJs selling crépes.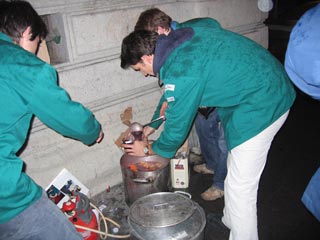 Oh wait. Boy scouts selling wine, that is more French.
During our last afternoon of shopping, I decided to get a little daring. I had already tried frog legs the night before, so the most exotic thing on the menu was boef tartar, aka raw meat. I was expecting a small portion of something surprisingly tasty; instead I got something that looked like it was knocked out of a dog food can. The taste didn't do much to negate that theory, either. I ate most of it before becoming too disturbed to finish.
Boef tartar, or dog food?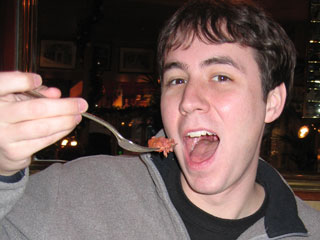 I did not actually enjoy it that much.
I returned home the following day, only to get hit with some gastro-intestinal problems for the following two weeks. The silver lining is, I lost a good deal of weight and now I'm totally cut, I almost have a six pack even. I gotta poison myself more often!