As told by TomFulp
My friend Ian spent a week in London on business. His last weekend there was "vacation time", so Tim, Pete and I flew out to party. The added bonus was that I got to visit
Jim aka liljim
, NG's sole PHP / MYSQL guru at the time. I had just gotten back from my trip to Slamdance, so I felt like quite the jet-setter.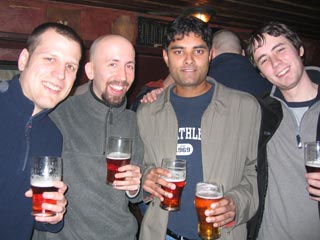 Left to right: Tim (NG Server Admin), Pete, Ian and Tom (me!)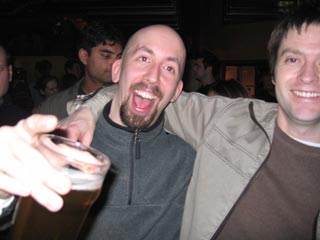 "I Like Beer and You Should Too!"
The whole weekend was out of control. The first time I visited London, I mainly did a lot of sight-seeing. This time, we drank our asses off with a bunch of English blokes. I think this was much closer to the true England experience.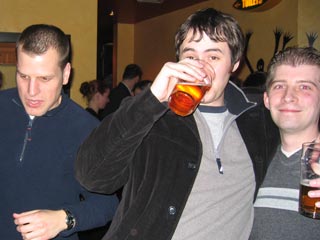 Left to right: Tim, me and Jim.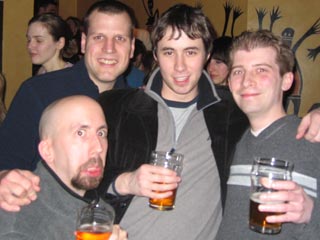 If we hired Pete, this could be an NG staff photo!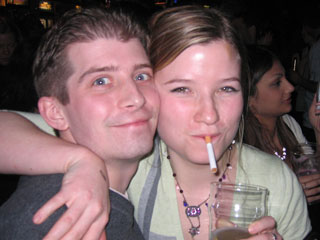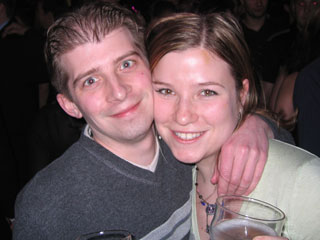 Jim came out with his sister, Laura. He later apologized for being blitzed upon arrival, but I hadn't even noticed. Looking back at these pictures, I realized he was!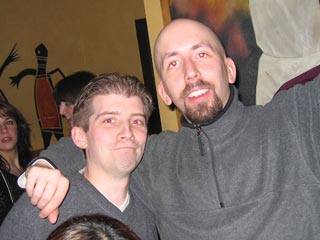 Jim and Pete.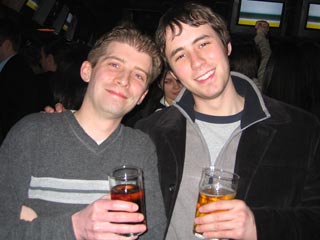 Me and Jim.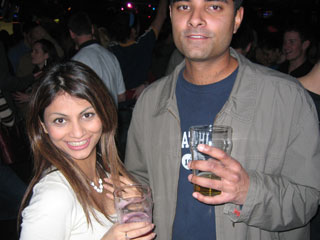 Ian and his cousin, who lives in London.
I don't know what's going on here...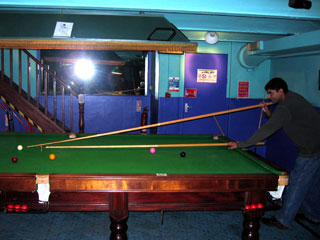 Ian playing snooker... What a ridiculous game.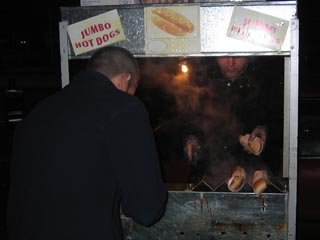 Tim and I ate street vendor hot dogs. Yum!
I feel kinda bad about the first time I went to London because I was so "un-cultured"... I wanted McDonalds every night and was even tempted by TGI Fridays. I have always been a fan of Pizza Express, though. We made a return visit on this trip. We also made time for some theatre, attending "The Complete Works of William Shakespeare (abridged)".
Other than that we just drank a lot...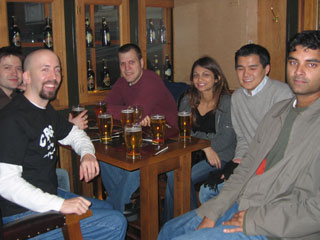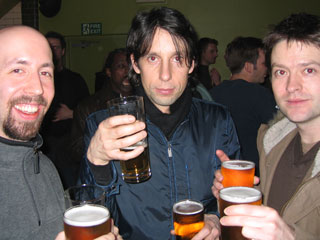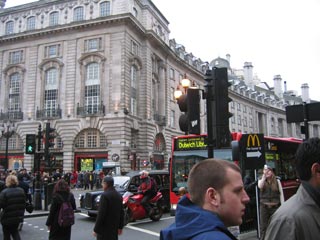 I tend not to take "scenic" pics because they come out boring.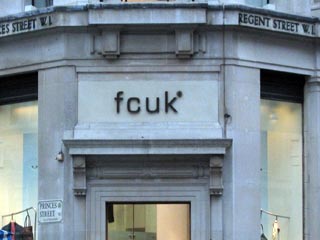 I always get a kick out of French Connection UK, though.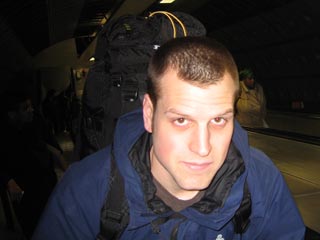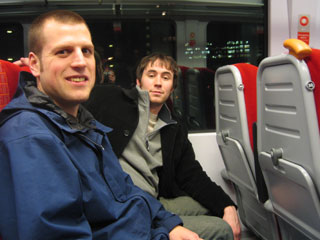 As usual, the public transit in London is 100x better than Philadelphia. This new train line we took was especially sci-fi. We were only in town from Friday through Monday, but it was a total blast. BTW, if you are wondering who Ian is, you can shoot him in one of my old games,
House Hunting
!