As told by TomFulp
The Game Developers Conference is a great place for people in the game industry to get together, share knowledge and get drunk. The Independent Games Festival is an especially great place for independent developers to meet like minded folks, share knowledge and get drunk. Not to mention there are PRIZES!
We first entered the IGF with
Alien Hominid
in 2005 and
won awards
for Innovation in Art, Technical Excellence and Audience Choice. In 2006,
Dad 'n Me
was nominated for Best Web Game and amazingly,
won the award.
This time around,
Castle Crashers
was nominated for Excellence in Visual Art, also making it eligible for the Audience Award. John, Dan and Emil, my
Behemoth
brethren, were all in attendance. Sadly, April couldn't make it; she used all her vacation days on our upcoming honeymoon.
I showed up in San Francisco on Tuesday night and the first order of business was a
Gamespot
party. I was tired and dehydrated from the plane ride, so I avoided the beer and stuck with hors d'oeuvres. It was a nice chance to hang out with Ricardo, who happens to be my favorite person in the gaming press (sorry everyone else)! I still somehow managed to wake up with a headache the next morning, but some V8 and coffee fixed all that. It was time to head to the Moscone Center and face the music! Crowds (and press) quickly descended on the IGF and Castle Crashers.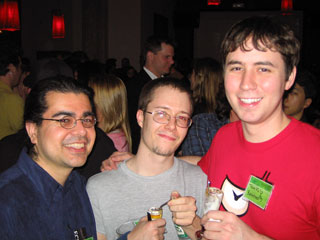 Tuesday night: Hanging w/ Ricardo at the Gamespot party.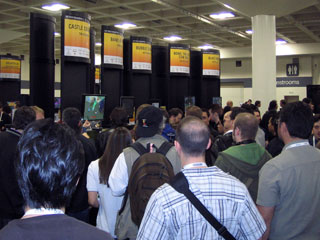 Wednesday morning: IGF.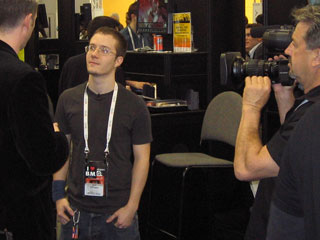 Dan fields questions from the press.
I take a turn on the mic.
A lot of cool developers were in attendance this year so I decided it was time to put more spotlight on everyone else. I didn't take pictures of all the games at IGF, but these are some of the ones I enjoyed playing the most.
Aquaria
is an awesome game that is still in development. It is a sort of Castlevania / Ecco the Dolphin hybrid, where you explore expansive underwater spaces. The gameplay is extremely smooth and you have the ability to change characters, resulting in different abilities. I can't wait to see where this game goes, I have high hopes for it.
10/31/13 Update: Since Aquaria, Derek went on to make
Spelunky
and Alex is currently involved with games like
Night in the Woods
,
Grave
and the music in
Tower Fall!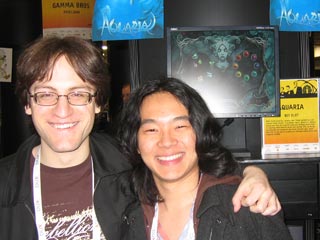 NG contributors Pixeljam were in attendance, with Gamma Bros! If you haven't played this classic shooter yet, check it out!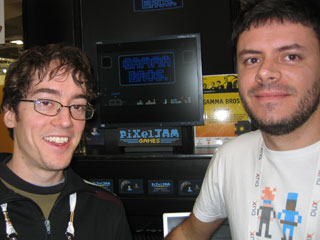 One clever game that I especially liked was Invalid Tangram. It's a shooter / puzzle mix where defeated enemies turn into falling blocks. You can collect adjacent groups of two or more colors to give your ship temporary power ups and extend your time limit. This game was tons of fun and I love to brag about how I got the top score of the IGF. :)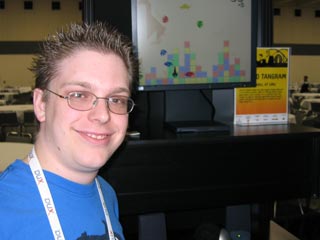 Josh Szepietowski, student and creator of Invalid Tangram.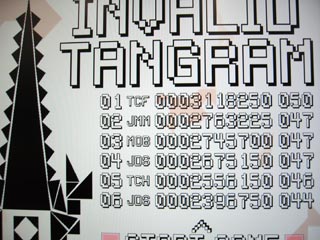 No one could touch my high score at Invalid Tangram.
And Yet it Moves
was a great platformer where you could rotate the screen to solve puzzles and access unreachable areas. The puzzles were fun to solve, making me feel smart in the process. I ended up getting stuck on a coconut tossing monkey, where I know I just had to use rotation and gravity to fling the coconuts back at him, but I kept screwing it up.
The guys behind And Yet it Moves, part of the student showcase.
FizzBall
was like Pinball and Arkanoid meet Katamari Damacy. You bounce a ball around as it collects items on the screen; the bigger it gets, the more items it can collect! You need to grow your ball in order to take on boss enemies. It's lots of fun!
Mike Lee of Grubby Games, creators of FizzBall.
De Blob
was made for the city of Utrecht in the Netherlands, to coincide with and educate the public about a massive redevelopment project that is taking place. The goal of the game is to roll around and paint buildings, with special objectives and challenges for larger buildings. It's good chaotic fun and it plays with a roller ball.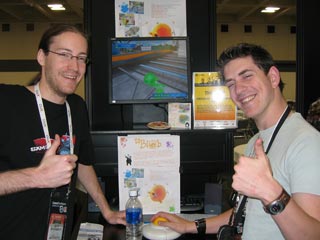 The guys who made De Blob.
Everyday Shooter
is awesome for twitch gaming fans, especially people who like Smash TV and Geometry Wars. There was always a line to play it, so I didn't have a chance to really dive in until the last day. It rocks, now I want it to have a high score table (unless I missed that).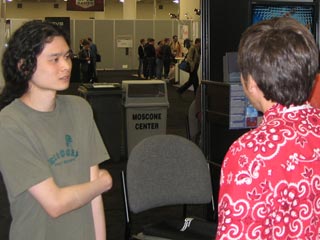 John talks to Jonathon Mak, creator of Everyday Shooter.
Toblo
is a fun game of block gathering and throwing, as well as the winner of the Student Showcase award. Upon accepting the award, Steve Chiavelli proceeded to propose to his girlfriend. This sort of thing is really becoming an IGF tradition! Remember that embarassing picture of Danielle crying when
Edmund proposed
in 2005?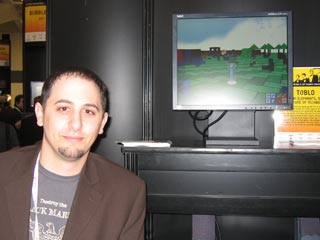 Steve Chiavelli of DigiPen, showcasing Toblo.
Speaking of
Edmund
and Danielle, they were both in attendance! Edmund was there with
Blast Miner
, which won a publishing deal with GameTap. If you haven't bought Blast Miner yet, for the love of god, check it out! Here are some pics of me goofing off with Edmund and Danielle.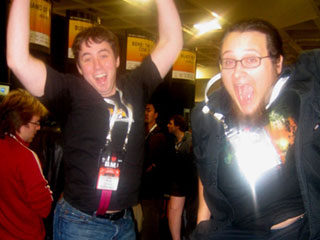 Jumping for joy with Edmund.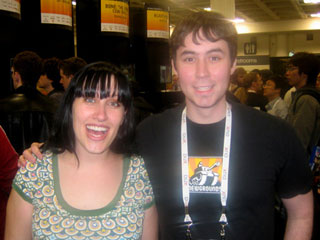 Danielle and I strike a pose.
Forget those two schmucks, though. We met REAL video game celebrities! Wednesday night was the awards ceremony, so Edmund and I got photo ops with Cliffy B (Gears of War game designer) and Miyamoto (ever hear of Mario and Zelda?). After taking the pic with Cliffy, he sent me off with "Tag, bitch!" - a classic line from a
GoW collab
here on NG. If you think I'm sick, just look at that hand gesture. Two in the pink, one in the stink?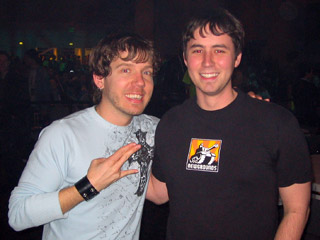 Cliffy B, Gears of War game designer.
Edmund gets his picture taken with Shigeru Miyamoto.
The awards show went great, we won both the awards we were nominated for! Our friends from
Mega 64
were there with new skits to play throughout the awards show, including one with a guest appearance by
Miyamoto
himself! They must have shat themselves over that one. We first met the Mega 64 guys when their booth was across from ours at
Comic-Con 2004.
It's cool to watch them grow! I'm just waiting for that TV deal to happen!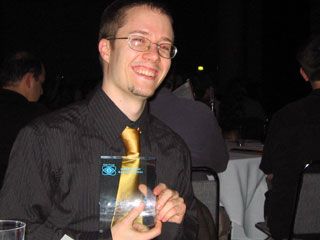 Dan flashes his award for Visual Arts.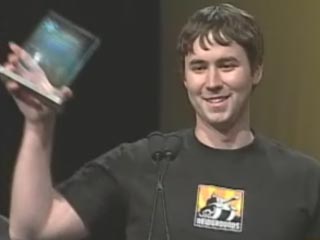 I thank all the fans for the Audience Award.
We celebrated our wins by going to a cafe for dinner. I had a milkshake. Jake and Don from
Gastronaut
met up with us, as well as
Brandon Sheffield
from Game Developer magazine,
Frank Cifaldi
from Gamasutra and Dan Tabar, creator of
Cortex Command.
We decided to hit an Irish pub to celebrate Jake's birthday. It was a subdued evening, but a fulfilling close to a busy day.
Thursday morning it was back to the IGF kiosks to hang around, play games and answer questions. Robert Khoo from
Penny Arcade
came by - he's their biz dev guy and totally fun at parties. He tried to beat my Invalid Tangram score but he failed. Cliffy B and the gang from Epic stopped by to check out the IGF, so I took a picture of him playing Castle Crashers with Dan. It made me feel insecure to know the guys playing our little game were the guys who worked on Gears of War.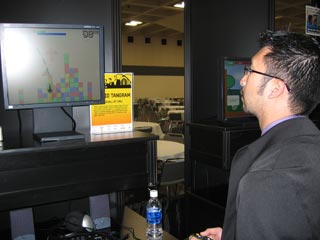 Robert Khoo of Penny Arcade tries to beat my score.
Cliffy B playing Castle Crashers with Dan.
We cut out around 5pm to head over to the Gamespot offices and do an interview with On the Spot (March 8, 2007). We talked about Castle Crashers and showed off the trophies we are giving away for Alien Hominid leaderboards on XBLA.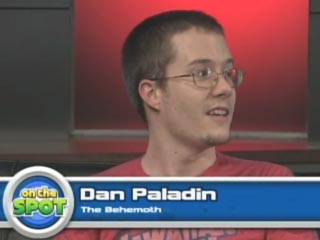 Dan explains the backstory behind CC.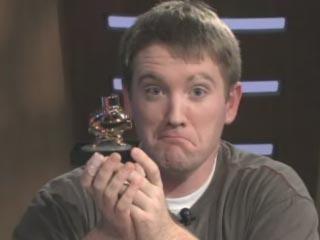 Rich Gallup marvels at our leaderboard trophy.
After the show we downed a few beers at the Gamespot Happy Hour and then went off to another Happy Hour for XBLA developers. This was a cool room because it was all the teams who worked on games like Worms and Castlevania. The biggest surprise, though, was meeting the guys who made those crazy Burger King games! Turns out they were the same guys who made Fusion Frenzy for the Xbox, then one day they were eating Burger King and decided to pitch the whole game idea to BK. Since then, they've gone on to sell more units than Gears of War!
Jake and Don from Gastronaut, with Emil.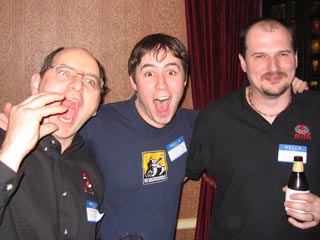 Getting crazy with the Burger King guys.
Get angreh.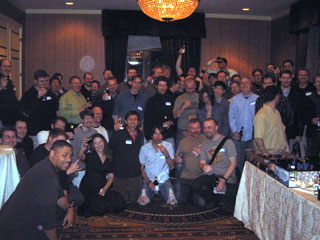 Group photo.
The XBLA happy hour ended with a big group photo - that's me holding up a beer in the back, in front of the curtain. From here we went to an MTV party and another Microsoft party. I was tired and ready to crash at the hotel, so unfortunately I didn't even think to take pictures. Standing around and talking about games all day somehow manages to wear you out. Probably because you need to be on your toes when dealing with shady industry people who want to pry information from you.
Friday morning we had breakfast with Robert from Penny Arcade, then went off to the IGF to continue standing and talking. I ducked out for an hour to attend a talk by Koji Igarashi, the man behind the Castlevania games, one of my favorite franchises of all time. He proclaimed that 2D will live forever and weighed the positives and negatives of 2D compared to 3D games. He spoke about some of their recent challenges with managing 2D art on high definition consoles and I really wished I could drag him over to our kiosk to show him Castle Crashers and all the cool tech we've developed for hi-def, hand-drawn art.
Nintendo was giving out free Wii flashlights to anyone who applied for a job, unfortunately I missed out. We wrapped up the day with one more press interview and celebrated with a big dinner at Bucca di Beppo, at the Pope table.
Derek Yu with Edmund and Danielle.
Danielle looks confused by her Wii flashlight.
It was a long, fun week and we met a lot of great people. In an industry that is so dominated by people who don't actually make games, it is nice to hang out with a group of people who do all the heavy lifting themselves. Real programmers, real artists, real human beings!