As told by TomFulp
In 2005, we
won some awards for Alien Hominid
at the Independent Games Festival in San Francisco. This year, Dan Paladin and I were nominated in the "Best Web Game" category for
Dad 'n Me
, a playground brawler we had made to let off steam after the long AH console development cycle. Dan did the graphics and I programmed. Dustball also contributed with original music and Stamper spiced things up with an intro, ending and fancy menu sequences.
The IGF was in San Jose this year, making for a change of scenery!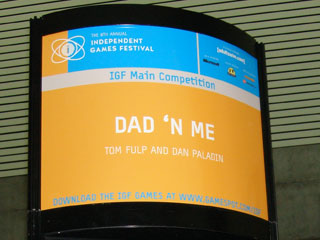 The Dad & Me kiosk!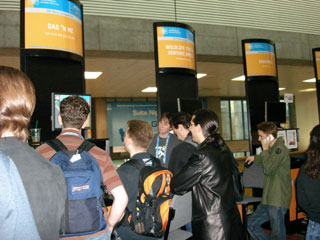 The crowd rushes to beat up kids!
The IGF is part of the Game Developers Conference, so the attendees are all from the game industry. There are lots of new products and technologies on display at the convention center, as well as new games, such as Big Brain Academy for the DS! Competing at four player brain games on the new DS Lite was one of the highlights of our trip.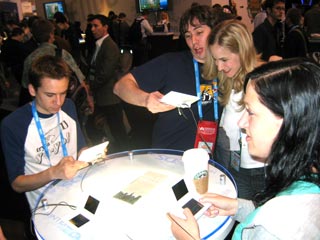 Big Brain Academy: It's like a home gym for your brain!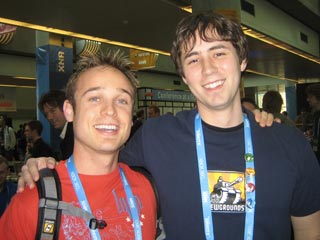 Having some laughs with Dan McNeely from
ArmorGames
.
We saw a lot of familiar faces at the IGF/GDC, but mostly hung out with
Dan Paladin
(artist behind Alien Hominid) and his gf Jenny, John (fellow Behemoth co-founder),
Dustball
(musician for Dad 'n Me, creator of
Play
) and his wife Priscilla, and
Edmund
(of Gish and now Meat Boy fame) and his wife Danielle.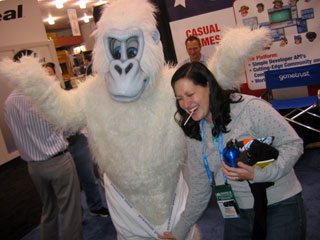 Danielle sizes up the competition.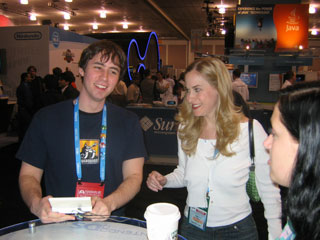 We go back and play more Big Brain Academy.
Setup was late Tuesday afternoon and I didn't take any pictures that day. The reason you don't see John or Dan in any of the Wednesday pictures (above) is because they both came down with a horrible stomach bug! We thought it was food poisoning from dinner the night before, but would soon realize it was something much worse...
The awards ceremony was Wednesday night and unfortunately Dan wasn't able to make it off the toilet to attend. I was expecting
Dodge That Anvil
to take home the prize, in which case Dan would be off the hook... But unfortunately for him, WE WON!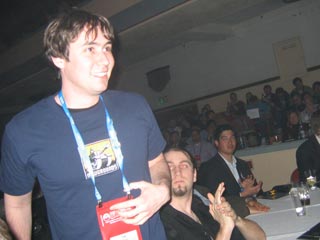 "Me? Really?!"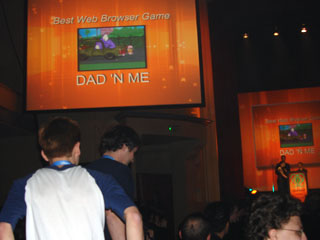 Dustball and I approach the stage.
I let everyone know Dan was stuck on the toilet.
Showing off the prize.
I told the crowd that Dan would be accepting the prize from his porcelain throne, and gave a shout-out to Stamper back in Philly. It was a great night and now we could kick back for the next two days!
We spent the next day gloating like assholes.
Yay, group shot.
Edmund gets dissed by that girl from the Real World.
L-R: Priscilla, Danielle, Jenny, April
On Friday, April and I went with Dan, Jenny, Dustball and Priscilla to the Winchester Mystery House. Apparently, the Winchester Rifle heiress had workers building her house 24 hours a day, seven days a week, for 38 years until she died. She did so in order to appease the spirits of those killed by the rifle and to not suffer the same fate as her dead husband and child. You can read more about it on the
official site
. The house is full of all sorts of architectural oddities, hence the tour.
Standing in front of the Winchester Mystery House.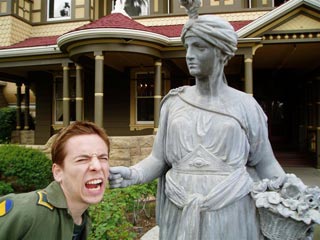 Dustball gets punched by a haunted statue.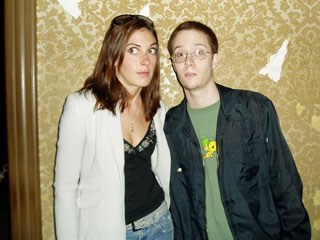 Dan and Jenny get the creeps.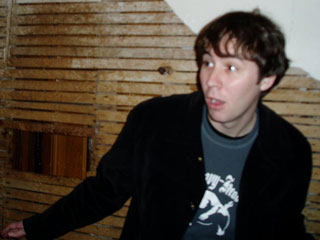 I was chased by a spooky spectre!
That night, April got sick with the same bug that Dan and John had caught. She managed to make the flight back to Philly, what a trooper! Jenny got sick on Saturday and I thought I was out of the woods, until I spent Sunday night through Monday morning puking and crapping. Thanks, San Jose!