As told by TomFulp
In 2002,
DanPaladin
and I made a run 'n gun web game called
Alien Hominid
. The following year, the video game company Dan was working at in San Diego shut down. One of his co-workers, John, came to Dan and said we should start a company and make a console version of Alien Hominid. It was released in November of 2004 and we're really proud.
Alien Hominid was nominated in the 2005 Independent Games Festival, which took place from March 9-11th in San Francisco, CA! The IGF is part of the Game Developers Conference, an industry-wide event that draws in the entire gaming industry for classes and awards. It isn't very often that you get to put your game on public display and meet other independent game developers. The last time we did it was at
Slamdance
.
Dan and John arrived early on Tuesday, March 8th, so they got to go bowling with some people. April and I didn't arrive until late Tuesday, so we missed out. Brandon didn't come at all, so he really missed out. Also in attendance were Scott and Emil. Scott does programming for the Behemoth and Emil does quality assurance and lots of other great stuff! You'll see them in pictures further down.
Alien Hominid had its very own booth!
Check out the crowd! Most are from the industry!
I didn't take out my camera much on the first full day (Wednesday), which is a real shame. I wish I had gotten more pics of other developers. I did, however, take a picture with Thomas Flint. Thomas was a member of my Prodigy club, the Neo Geo Alliance, back in 1991! We had never met face to face; it was a big reminder of just how long I have been on-line. I was only 13 when I made the original New Ground print fanzine!
Our nomination was in the open category, putting us up against our good buddy Edmund McMillen and his game, Gish! We were all happy to just be nominated, so there was a very positive vibe all week.
Thomas Flint was a member of my Neo Geo club on Prodigy.
Edmund holding Brian Fisher, from the Wik team!
The awards ceremony was on the first night. It was nice to get it out of the way early so we didn't have to anticipate it all week. Each company had its own table (smaller companies shared tables) and the room was a total whos-who of the gaming industry! Having drank all the beer at our table, I noticed the Namco table was completely empty. I thought they wouldn't mind if I snagged a Sam Adams. Arriving fashionably late, the Namco team had one less beer to drink and it was all my fault! Sorry guys, you snooze you lose!
April and me at the awards ceremony.
Keita Takahashi, the creator of Katamari Damacy!
I was giddy as a schoolgirl to find myself sitting directly across from Keita Takahashi, the creator of Katamari Damacy! He was straight off a plane from Japan and didn't speak English, but we all communicated with lots of big smiles! Katamari Damacy was my favorite game of 2005, go buy it if you haven't.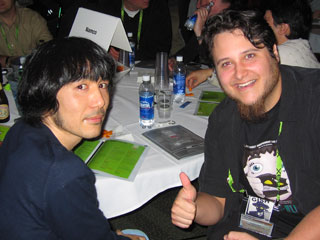 Edmund (of Gish and now Meat Boy fame) also takes a picture with Mr. Takahashi.
Dan joined in for the ultimate group picture!
The time for the awards finally came. In the open category, we won the awards for Innovation in Art, Technical Excellence and Audience Choice (thanks guys)! It was so crazy to get up on stage in front of the people who make games like Halo 2 and Worlds of Warcraft. It is also crazy to think some of them might give Alien Hominid a try!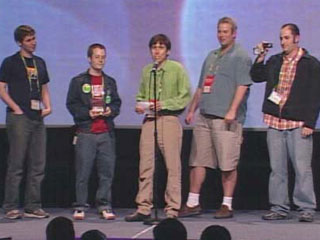 On stage, accepting our award!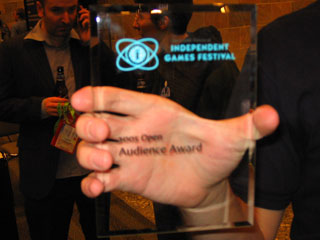 Check out these nifty trophy plaques!
The most noteworthy moment of the evening came when Edmund won the grand prize for Gish. Rather than give the standard acceptance speech, Edmund walked on stage and proposed to his girlfriend, Danielle! Having known Edmund for years without ever meeting him in person until this week, it was awesome to be there to for such a monumental point in their lives! We are all happy that Edmund got the opportunity to make such a memorable proposal.
Edmund pops the question...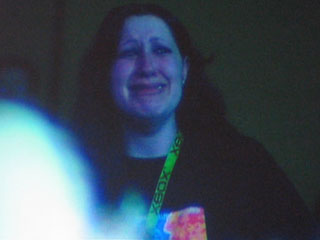 Danielle sheds tears of joy and nods her head "YES!"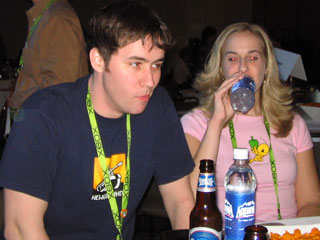 My reaction to Edmund winning... Just kidding
Immediately following the ceremony, we got a chance to meet Morgan Webb and Adam Sessler from G4TechTV! I personally thanked Adam for wearing an Alien Hominid t-shirt when he was on an episode of the Screensavers. Morgan interviewed us, which was pretty neat!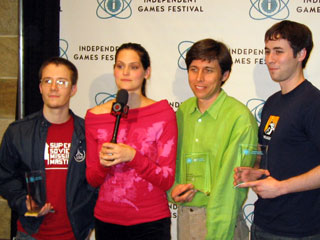 Oh hai Morgan Webb.
After the awards, we took our light buzz over to the Sony party where we continued to hammer down booze in celebration. This was the first time I ever got to go to a Sony party, after being snubbed for the past three years at E3. I'm hoping I'll get to go this year at E3, since I'm speaking on a panel and all. Maybe that will buy me some cred, who knows.
A toast, to Alien Hominid!
Legendary game musician Tommy Tallarico poses with Dan!
Thursday was hang-over free and lots of fun. We hung out all day and continued to meet lots of people in the gaming business. We also handed out a lot of Alien Hominid postcards - gotta get the word out as much as possible! In the picture below, you will see Dan is holding a tray full of little Alien Hominid buttons. People love swag!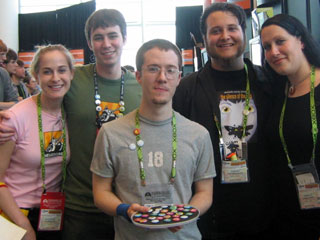 April, me, Dan, Edmund and Danielle!
Danielle admires our quality merchandise!
Both days involved a lot of press attention. We had a second interview with G4TechTV, as well as an interview with Gamespot and with a team filming a documentary on independent video games.
We love any chance to get on G4TechTV!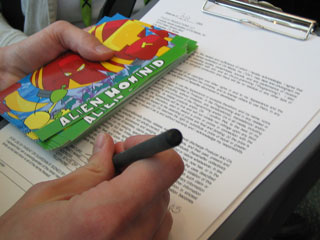 Oh boy, another release form to sign!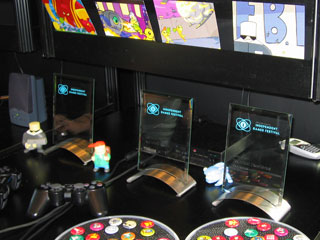 Our new awards are proudly on display!
The pudding boss, a top boss of the year in Game Informer!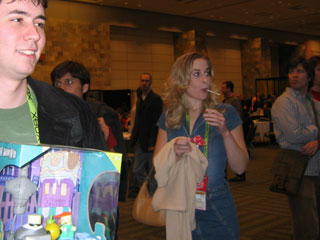 April and I show off the toys.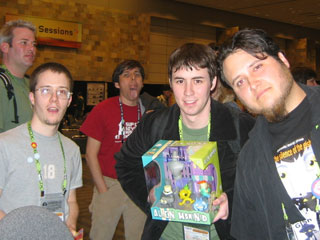 Scott, Dan, John, me and Edmund.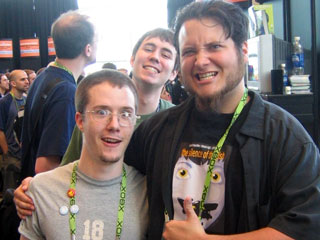 I sneak in on a picture of Dan and Edmund.
Me, John, Scott and Emil!
Thursday night was party central. We started off by going to a Shockwave.com / Atomfilms party at Kate O'Brien's. I had received a personal invite from the CEO himself, which was a real honor! He is a real classy guy and it was great meeting him face to face. I am still kicking myself for not taking any pictures, but luckily Emil snagged one of me talking to James from the Revolved team. Revolved won indie game of the year at Slamdance!
The Shockwave / Atomfilms party was at a pub!
The CNET courtyard had a Scion with Tekken 5 in the trunk.
Right up the street was the CNET building, home of Gamespot.com! We got an invite to their party from Ricardo Torres, Senior Editor and Alien Hominid fan. The building was amazing and the Gamespot offices are everything I ever dreamed they would be.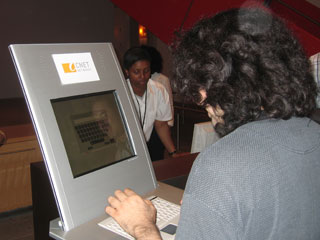 Ricardo enters the secret Gamespot entry password...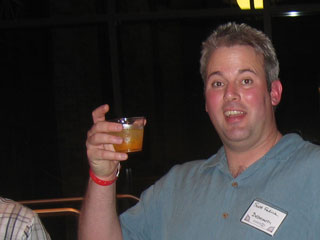 Scott is excited to take the tour and drink some more!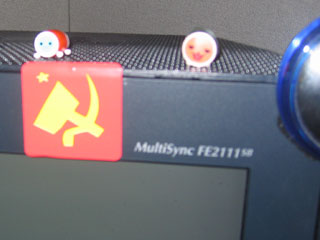 One of the Gamespot staff has an AH sticker on his monitor!
Imaginative artwork at the Gamespot office...
When I was a kid, I thought working as a video game reporter had to be one of the coolest jobs. As I grew older and more cynical, I figured it was probably not as cool as I thought. Walking around the Gamespot offices, however, I realized that it really does rock! I mean, where else will you find a Neo Geo MVS unit with Samurai Shodown 2, next to the classic X-Men arcade game? Don't even get me started on the room with wall to wall video games. Here I am, pointing at Alien Hominid!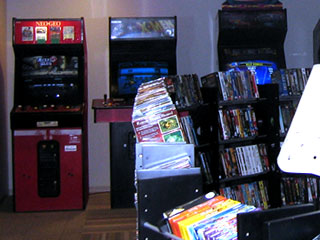 Gamespot has an arcade MVS unit with Samurai Shodown 2!
The legend is true... Every game ever made!
The most exciting thing about the Gamespot office was the opportunity to play some new games! I finally got my hands on a PSP and it totally won me over. I really wasn't too excited about it until I actually held it in my own hands and was absorbed. Although we did win a PSP for each of our IGF awards, apparently we won't be getting them until the official release. That's a bummer, I want one now!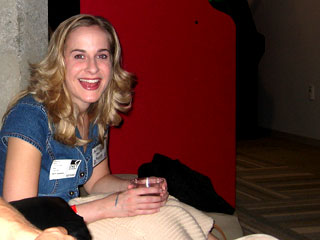 Everyone was having a great time when...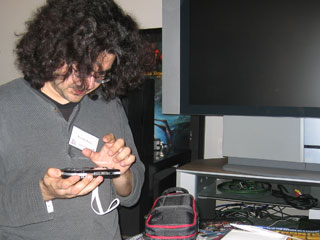 Ricardo busts out a Sony PSP. Drooool!
After the Gamespot party, we went to a second Sony party. It wasn't too impressive this night, probably because Microsoft was having a big party as well. Hey Microsoft, how about inviting us next time? We downed a few free drinks and headed off to a video game art show.
These four pics showcase the work of David DeRosa. I immediately fell in love with the Atari joystick, but it was sold! Simon also rocked, but I wasn't ready to break the bank. David has done comissioned pieces for Nas, Snoop Dogg and Mos Def. I should have requested an interpretation of the Newgrounds tank logo!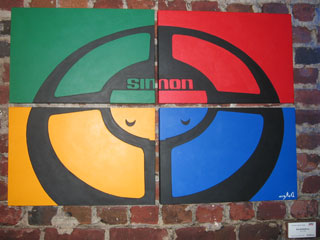 This would look great in the NG office, if I ever get one. (Update: Office GET)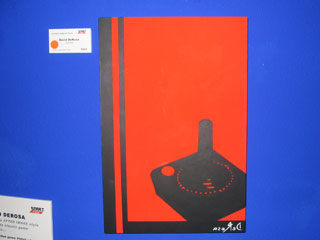 I wanted this one but it sold!
I bet Paris would buy this one.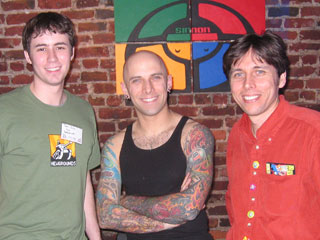 David DeRosa poses with me and John!
There was plenty of other great art at the show. Here's a few examples, including one I found on the wall in the men's bathroom titled "Love", by Random Bathroom User. Is a hole in the wall considered installation art?
Nifty transit map art by Eric Orr.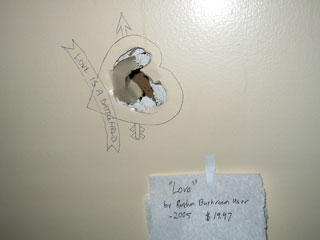 My favorite piece of the evening.
The art party was our last stop for Thursday. I would have loved to hang out on Friday, but April and I had to catch a plane to Austin, Texas, where I
spoke at South by Southwest
Friday night! It was great coming out and seeing everyone - both the west coast Behemoth team as well as all the indie game developers. It was especially cool to see some familiar faces from Slamdance. It really gives the feeling of a community! I hope to make it out to IGF and the GDC next year, when they are in San Jose!