As told by TomFulp
In 2002,
DanPaladin
and I made a run 'n gun web game called
Alien Hominid
. The following year, the video game company Dan was working for in San Diego shut down. One of his co-workers, John, came to Dan and said we should start a company and make a console version of Alien Hominid. Accomplishing that task, we started on our next game:
Castle Crashers
. Every year, we set up a booth at Comic-Con to promote our games and meet the hoards of Newgrounds and Behemoth fans who stop by.
Setting up the booth this year brought some new challenges. It was finally time to retire the old Alien Hominid-centric backdrop and replace it with a new one, combining elements of Alien Hominid, Castle Crashers and the Behemoth. This meant Dan had to draw a GIANT piece of art and John had to work with the printers to make it a reality.
Comic-Con booth set-up, 2005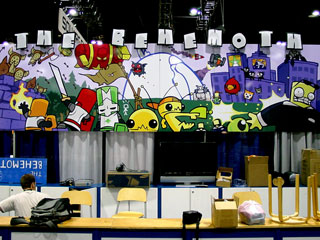 Comic-Con booth set-up, 2006
This year also saw the introduction of the "Behemoth Pod", a metal monstrosity (in a good way) that allows up to four players on each side to enjoy our games without crowding the main booth. John came up with the design for the pod and built it in his garage. Tim and Emil helped with some final prepwork, but at the end of the day, the pod is John's.
Tim helps John with final preparations.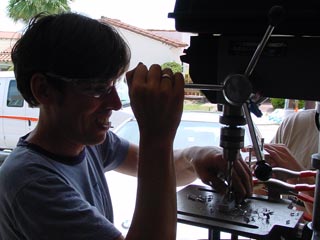 John looks all badass on some machine.
The wireless controllers are given security-wire.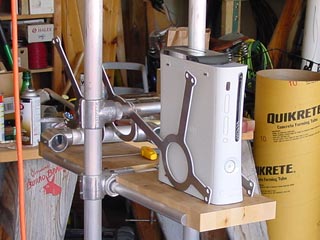 A 360 placeholder is used during prep.
The pod keeps players out of the way.
The test units are good to go!
The Con started with pro-night on Wednesday, followed by the official opening day on Thursday. From this point on, it was sort of like going through the motions... Fans come by, the games are played, merchandise is sold and autographs are signed. After so many years, I feel like a Comic-Con veteran.
The Behemoth gang was at the booth, including me, Dan, John, Josh, Scott and Emil. We got additional help from April (then my fiancé), Tim (the NG sys-admin) and Billie, who wears the Alien Hominid costume and runs the "All You Can Eat" mini-game competitions.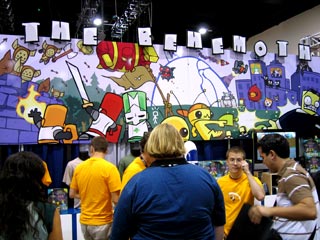 We color-coordinated for opening day.
Attendees give the games a spin.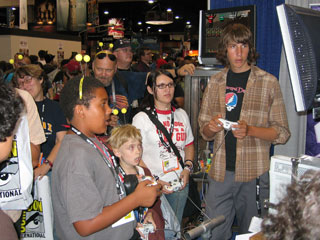 Antennas are worn.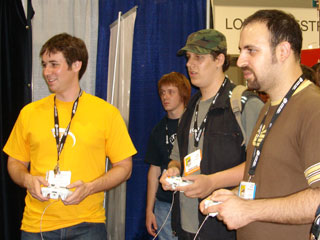 Hey look!
Maddox
is on the far right!
April, not afraid of killer robots.
Dan pwns some noobs.
Playing "All You Can Eat" against a contest finalist.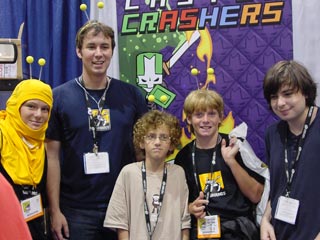 Guess who that is on the far right? Hint: B
The cool thing about Comic-Con this year was the shear number of NG regulars who made appearances. As a result, there were a lot of little moments that hardcore NG fans will appreciate. For example, some of you may remember that a
PS2 was stolen
from our office.
Rog from I-Mockery
thought it would be cute to pay us a visit in disguise...
OMG, is that what I think it is?!
Thanks for returning our PS2, Rog!
A lot of Newgrounds contributors had booths this year at Comic-Con! If you're wondering why these pics feature Troopac from the College University booth, it's because I stole them from their website.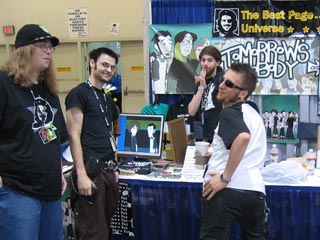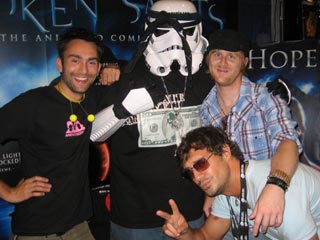 The greatest thing of all was the NG Sketchbook, which
Luis
presented to us at the Con. Luis sent blank pages to NG artists around the world and the result was this book. The only uncomfortable thing about the book was when little kids at our booth would page through it and stumble across Stamper's page. You'll have to check out the
on-line version
to see what I'm talking about.
Behold, the NG Sketchbook!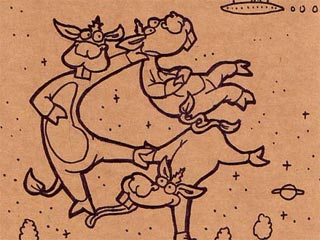 Sample page, featuring art by Dave from
RAB
.
A ton of other NG artists were roaming the floor this year, including Krinkels (Madness), evilzug (Work It! - Olskoo NES), James Farr (Xombie), FrostedMuffins (Defend Your Temple), Terence Anthony (Orlando's Joint), Rob DenBleyker (Joe Zombie), Toonimated (TMNT: REBEL), SergeP (Stickmess), Cheshirepus (Second Love) and StrawberryClock!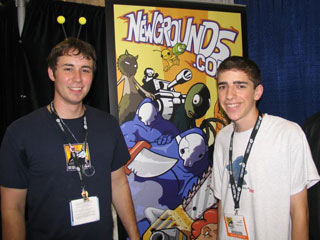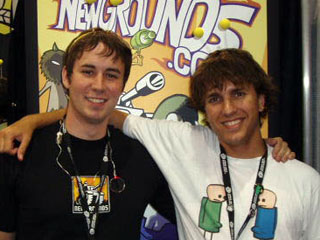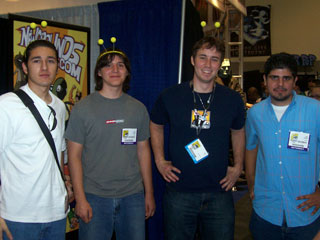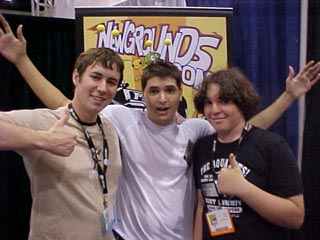 All these regulars in one place meant one thing: PARTY!
Krinkels, Luis, Cheshirepus, Me!
Krinkels and Rog share a soda. How cute.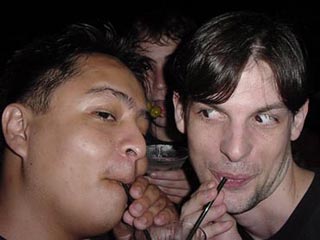 Luis and Rog share a sip.
Sorry Krinkels, I gotta take this!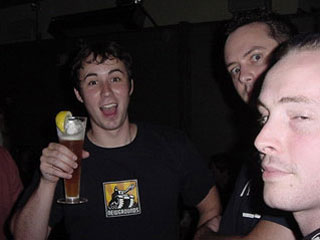 My only pic of evilzug is his head poking out there.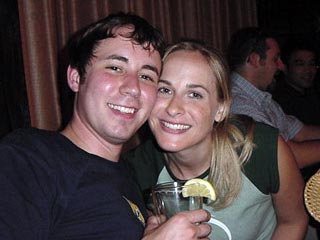 Without April to lean on, I would fall over.
Despite all the NG love, our booth still had a heavy emphasis on Alien Hominid. We were selling the game, the figurines and t-shirt, while giving away free alien antennas to fans. Here are some memorable fan moments!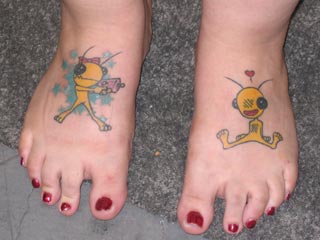 This girl got tatted up!
And this one, well...
Maybe the antennas give him psychic powers...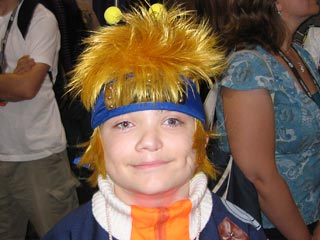 We study the McDonalds book on marketing.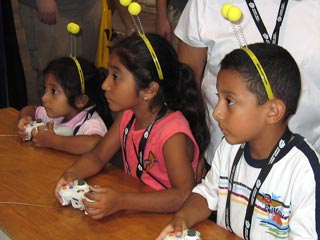 Castle Crashers is fun for the whole family!
Of course, it wouldn't be Comic-Con without an appearance by Billie in the Alien Hominid costume!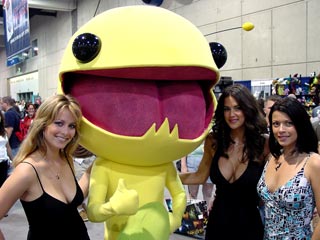 Time for an alien chomp attack!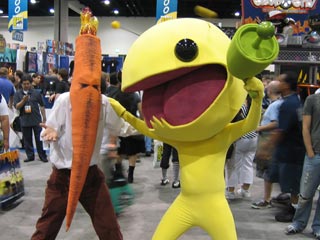 These guys always bump into eachother...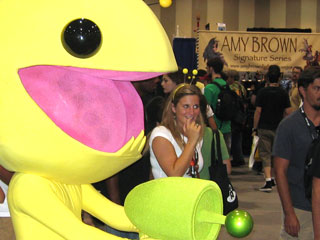 The alien protects a hominette.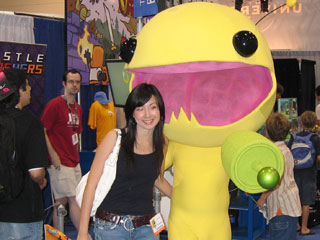 To bite, or not to bite?
An Elvis storm trooper, how about that.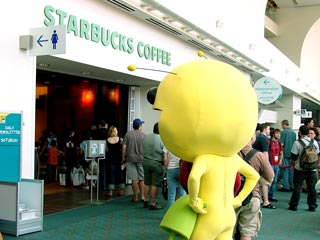 The line at Starbucks sucks.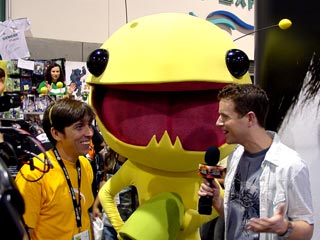 John gets interviewed.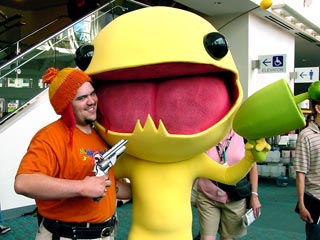 Damn those one-hit kills!
I had one last surprise at the end of Comic-Con; a random encounter with Evan Spiridellis, one of the founding brothers of
Jib Jab
! I've always been a big fan of their work, so it was great to finally meet him. Evan was there with Aaron Simpson of
Cold Hard Flash
. Aaron is another great guy who I never met face to face, however he
interviewed me
in November of 2005.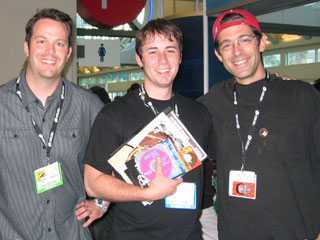 Evan from Jib Jab and Aaron from Cold Hard Flash.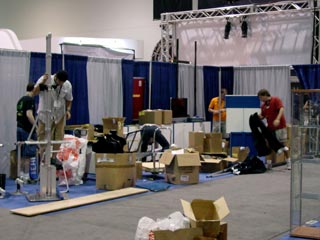 Tear it down!
April and I took off after teardown and went to La Jolla to celebrate her birthday, which happened to be that Sunday. It was now time to process all the Comic-Con feedback and prepare the next Castle Crashers demo. The Penny Arcade Expo was only a month away, read all about it!