As told by TomFulp
BRIEF BACK-STORY: In 2002,
DanPaladin
and I made a run 'n gun web game called
Alien Hominid
. The following year, the video game company Dan was working at in San Diego shut down. One of his co-workers, John, came to Dan and said we should start a company and make a console version of Alien Hominid. It was released in November of 2004 to lots of praise and even
won some awards!
We originally premiered the console version of AH at Comic-Con 2003 in San Diego. We later showed a near finished version at
Comic-Con 2004
, just months before release. Comic-Con 2005 marked our first chance to actually sell Alien Hominid at a public event. We also took the opportunity to introduce our new console game for the first time ever!
To prepare for the event, we worked feverishly for a month and a half on our new game (it's a very preliminary demo). John and the Behemoth team in San Diego also prepared goodies, such as 5,000 buttons (all hand-pressed in the Behemoth office) and stickers.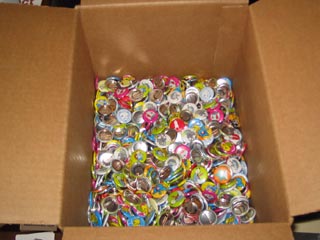 To add to the pre-Comic-Con stress, I was invited to guest-host Attack of the Show on G4! I flew out to LA on Tuesday, July 5th, fresh out of July 4th weekend. I went straight from the plane to the G4 office for my first live episode. John picked me up after Friday's episode and brought me down to San Diego, where I was back to work on the new game that night.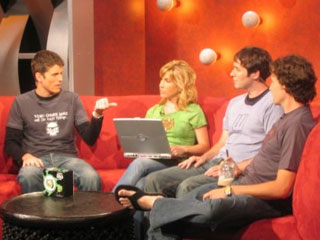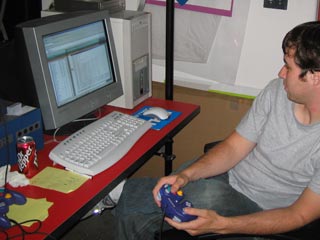 Tuesday was booth set-up. We arrived at 6:30am so we could get parking under the convention center, which opened at 7:30 for unloading.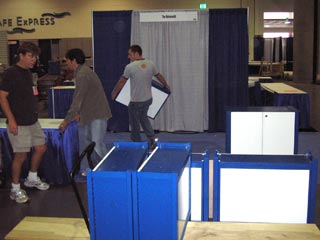 For the previous year, we thought it would be fun to give away free alien antennas to the crowd! We ordered 5,000 and they went like hotcakes. Devoid of any better ideas this year, we decided to try the same gimmick again; only this time we brought 20,000 antennas!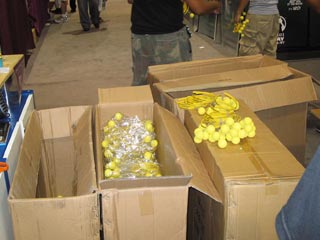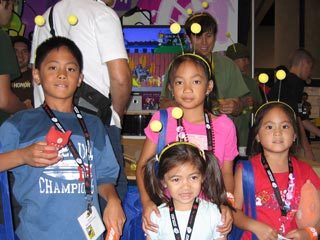 Even bigger than the antennas was the announcement of our next game, a medieval fantasy four player hack 'n slash adventure! This was the first time anyone had ever seen it, in all its buggy glory!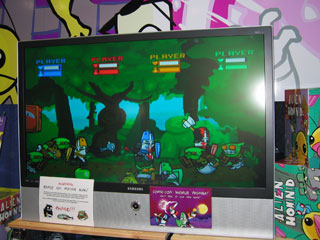 The unveiling of our new game meant we got a lot of attention from the press. The downside was that when most companies introduce a new game, they arrange for exclusives and provide press-packs with hi-res screen shots. We sorta blew our load on this one, letting everyone just see it all at once and take crappy pictures off the TV screen.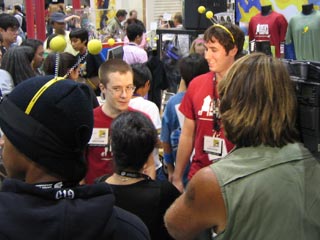 Ricardo from GameSpot liked it!
Day one of Comic-Con was a huge success, but we decided some changes were in order. For one, the antennas were a mess. They got tangled up when we tried to lay them out on the table, so John went out and got a pipe to line them on.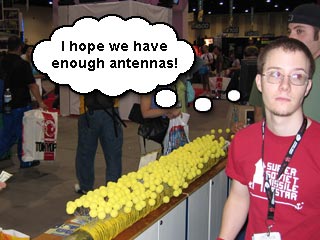 We also brought in a special surprise on the second day - an exclusive game! For the European release of Alien Hominid, we had created a four player mini-game called "All You Can Eat" (PAL users - try playing it with beer). Players take the roles of Fat Kids and have an insane eating competition where the fastest button masher wins!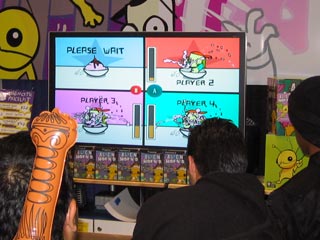 The frantic action whipped the crowd into a frenzy, so we decided to give out prizes! The winner of each match got a button. If you could win nine in a row, your tenth match was against the Behemoth team. Winners received their choice of either a copy of Alien Hominid or an Alien Hominid t-shirt. We met some insanely fast button-pressers. The fastest was probably a guitarist named Vlad. He was insanely fast.
A lot of fans stopped by to say HI and some even wanted autographs! Comic-Con is a lot different from life back home.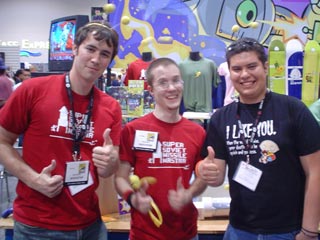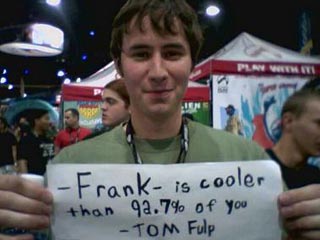 Kermit even visited! Here he is with me and John: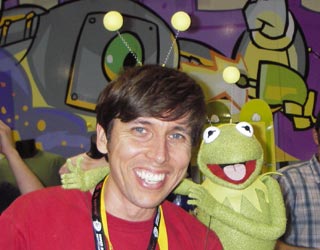 Rog
from I-Mockery was also in attendance, in all his Pickleman glory! Rog spent the week wandering around, taking pictures and giving out stickers.
Check out the page he made!
Here's Rog in his pickle hat: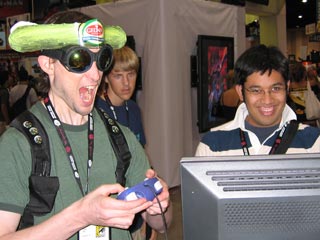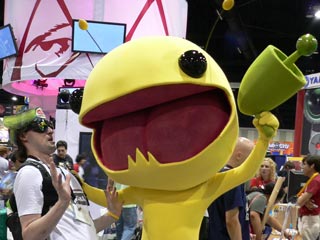 Look who else decided to show up!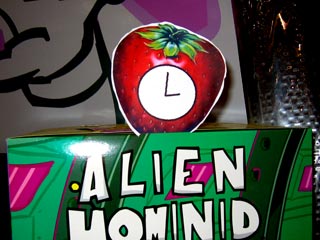 Saturday was the busiest day, as visitors from LA made the trip down the coast to check out Comic-Con. Shok just happened to be one of those unfortunate visitors - what would normally be a 2.5 hour drive ended up taking him six hours! It was worth it, though, as we were all able to get in to a party for game developer "Foundation 9", makers of Death Jr. for the PSP. At least, I think it was the Foundation 9 party. Free beer, free food... I'm happy!
Of course, it wouldn't be Comic-Con without the Alien Hominid mascot running around creating chaos. Here is the alien, making friends!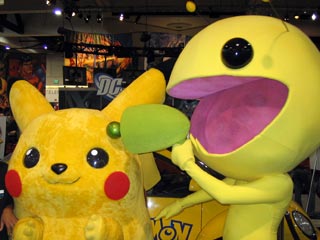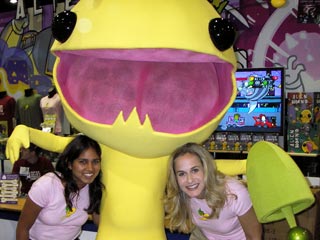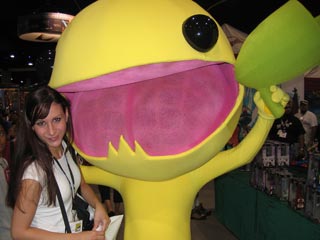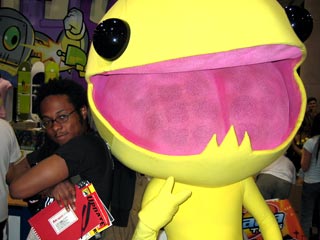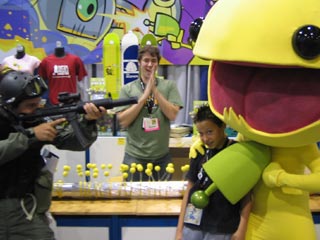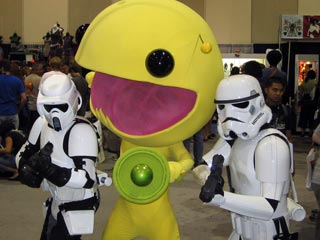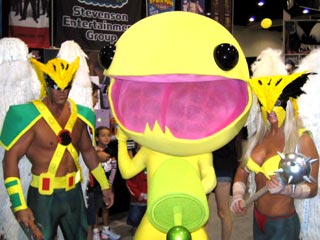 With only 30 minutes left on Sunday, we had sold out every copy we brought of AH for the PS2 and were down to just a few copies for Gamecube. People love buying stuff when there isn't much left, so I made the announcement and everyone got all grabby for a copy. In the end, we sold out completely! This was especially nice because it was less stuff to load into the van.
To celebrate the successful week, a few of us decided to grab dinner in San Diego's Gaslamp district. Rog from I-Mockery and his wife Re joined in on the fun!
April, Billy, Tina, Emil: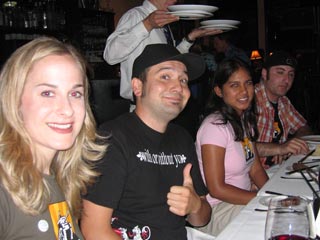 Re, Rog, John: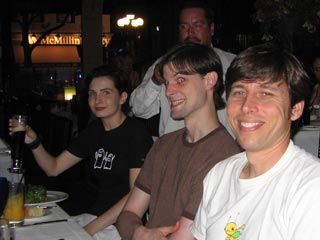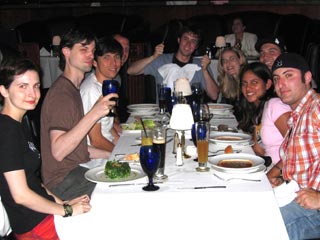 April and I flew back to Philly the following morning and I felt like I could sleep for days. It was a great experience and there was a growing number of NG regulars in attendance. Broken Saints and College University both had booths too!