As told by TomFulp
In 2002,
DanPaladin
and I made a run 'n gun web game called
Alien Hominid
. The following year, the video game company Dan was working at in San Diego shut down. One of his co-workers, John, came to Dan and said we should start a company and make a console version of Alien Hominid. We decided to give it a shot!
Because they were in San Diego and Comic-Con hadn't quite become the pop culture mecca it is today, John and Dan were able to get a table in 2003. They decided it was worth doing again, so we went BIGGER in 2004 and I flew out from Philly with April to see what it was all about. While the rest of the gang built the booth, we bagged and tagged shirts that would go up for sale.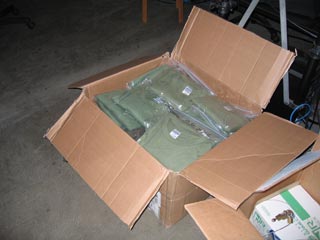 Arriving at the convention center, it was my first time experiencing the controlled chaos of convention setup.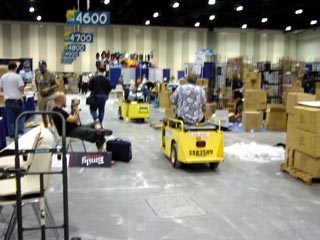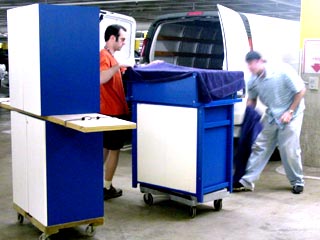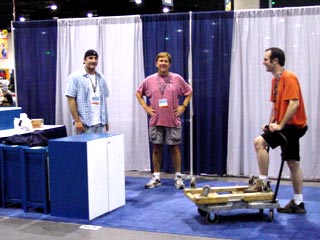 Comic-con setup was a madhouse, with forklifts moving crates full of merchandise to various booths. Josh, Chip and Emil came in early on Tuesday to begin booth setup (the doors opened Thursday). Josh (who helped program the tools for AH to run on consoles) is the guy wearing orange, Emil (who rigorously tests the game) is wearing a hat and Chip (who also worked on the tools) is wearing pink.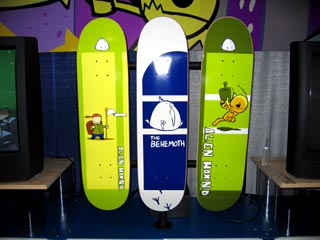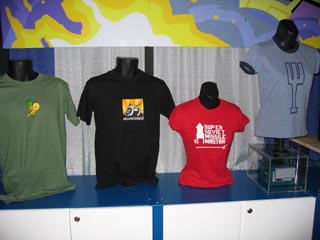 The merchandise was proudly put out on display! The Alien Hominid shirts included green and pink t-shirts featuring the alien, a red "Super Soviet Missile Mastar" shirt, a blue "fork" shirt (the shirt worn by kids in Alien Hominid) as well as black, blue and green Newgrounds shirts. We were also selling skateboard decks and figurines!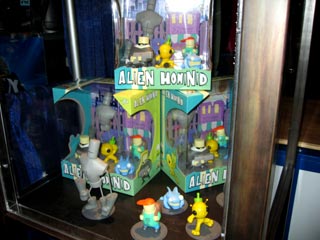 John had also worked with a local sculptor in San Diego to get Alien Hominid figurines made. This "anything is possible" spirit is what inspired me to find a local sculptor on the east coast to develop our
Tankman figure
.
The booth!
As the convention progressed, the booth became increasingly popular. It was a bit overwhelming to try eating lunch while answering questions and writing out receipts for merchandise!
Bringing even more attention to the booth was our real-life Alien Hominid, played by Emil's friend Billy. Lots of people took pictures with him.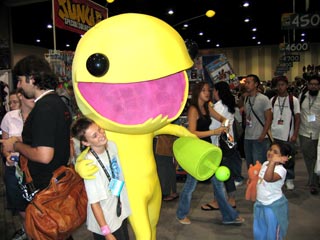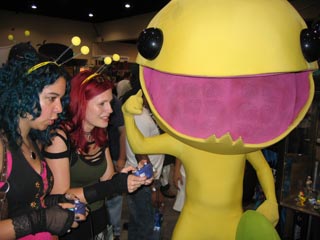 Coincidentally, my second uncle Charles Thomas Fulp was in attendance. He recently launched his own self-published comic under the label
Fulp Fiction
... Is that crazy or what? We had never met before. Fulp's aren't traditionally involved in the entertainment business; it was mind-blowing that our paths crossed this way.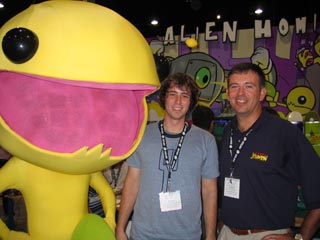 We gave out 5,000 yellow antennas at the convention. You could see them everywhere you went! Some lady was even wearing her antennas at the hotel, the day after Comic-con was over!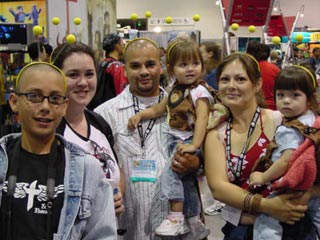 Here's a picture of Dan and I with
Gel
and
Dustball
: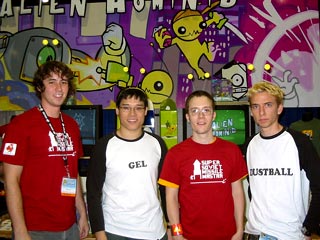 Here I am with
Frank
doing the
BEDN
: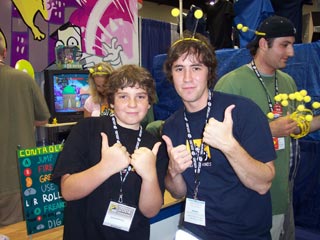 The convention ended on Sunday and it was time to clean up! We managed to pack our booth into the vans in just under two hours. Then it was off to the storage facility to put everything away until next year!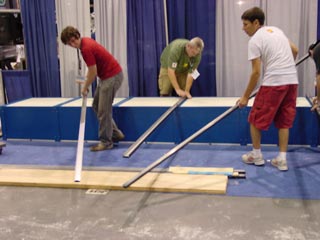 Looking back, it's really crazy that this booth was ever possible. We hadn't made any money yet, were working for free and John had re-mortgaged his house to pay for startup costs. I was a hermit who sat behind a computer and made games all day; I dreamed about stuff like this but didn't think of it as an attainable goal. Even the idea of trying to make a console game seemed crazy at the time, so it's amazing to see how far things have come as a result of just moving forward with an idea.