Commissions are open, if you would like to commission me you can either email me directly at
Or DM me on twitter, @arzonaut
commission post there as well.
I'm comfortable with drawing a lot of things and in different styles, so if you're unsure of what to commission just ask. We can discuss terms and pricing more in depth.
I draw both SFW and NSFW
Will not draw
Scat
Sexualized gore
Real people or OCs based on real people
Any fetish I find too extreme, please ask!
I will do commissions based on the order they're placed. Once my slots are full, I'll notify that I'm closed until slots are open again.
ANIMATION
If you would like to commission an animated gif/loop from me. Contact directly through email. We'll discuss terms and pricing based on the complexity of the animation.
SKETCHES
Sketches range from 15$ up to 35$ depending on the complexity
Single Sketch ~ 15$
Clean Sketch with Detail and Shading ~ 25$
Sketch set ~ 35$ (4 or more characters will be discussed separately)
Simple Price Sheet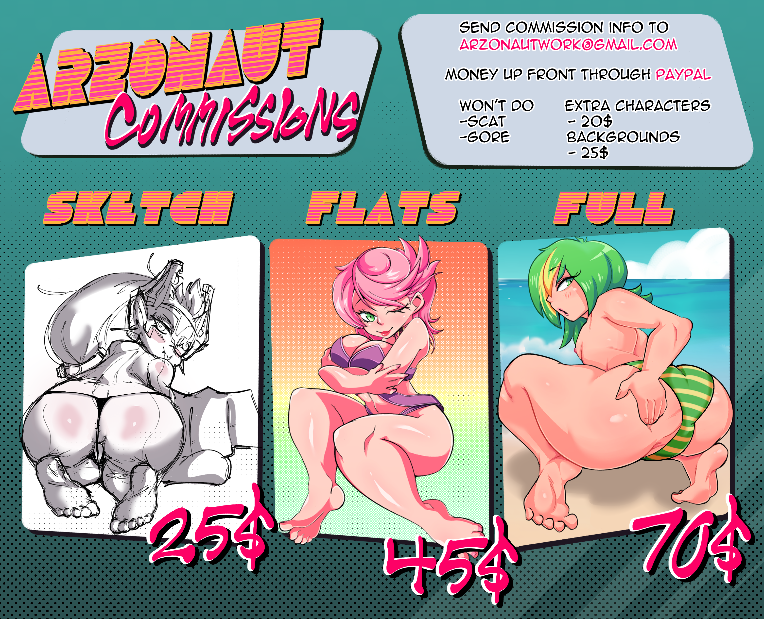 Examples of my work:
https://arzonaut.newgrounds.com/art
Tags: