On January 24, 2000 the great guys at Troma, flew me out to Utah for Tromadance. Here's what happened, along with lots of pictures!
The trip was crazy. I had to take a train to Baltimore, bus to the airport, plane to Cincinatti, plane to Utah, then shuttle bus to Park City... Luckily, I had a traveling partner - John Wheatman from House of Horrors! Here's a pic of John and I posing with with Toxie, Kabukiman and Andrew Lerner (who was in charge of Troma's web team at the time). John is on the right of Kabukiman, I'm on the left!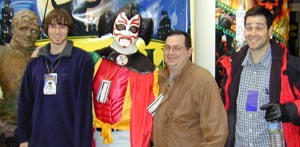 For the first day of the trip, we spent the entire day promoting Tromadance to the stuck-up Sundance crowd. They are mostly stupid yuppies who walk around sipping Starbucks, but there were a few cool ones who really got into the Troma spirit!
Most of them were Troma employees, of course.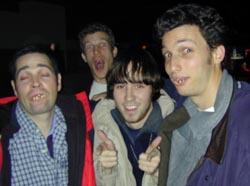 The next day was the big day - Tromadance! I pretty much hung out and watched movies all day. FDA was one of the shorts on display! That night was when the real fun began - the party!
Troma's party was packed - everyone from Sundance decided to show up. A lot of these assholes didn't even attend Tromadance - they just came cause they know Troma throws a bitch'en party!
One of the films at Tromadance was Cajones, by Julia Shih - that's her below, with me and Mark from Troma!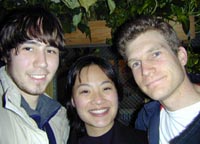 Below is me and Lloyd Kaufman - Troma co-founder! Below that is me and Trent, star of Terror Firmer! Woah!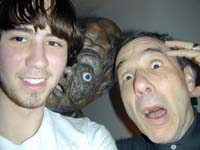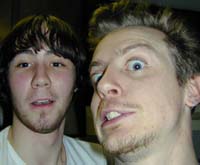 Even cooler... Newgrounds fans! Here I am with Nehi and Athos! Mark is in the front - he's a Troma guy... and a newgrounds fan, too!
I know these trip write-ups are never very thorough or insightful, but they get the job done.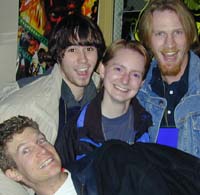 Thanks once again to Andrew Lerner, the head of Troma's web team. He always hooks me up with these great trips! Also thank you Doug, who busted his butt making sure all the travel arrangements went according to plan!