On November 13, 1999, the great guys at Troma flew me out to LA for a few days. I was excited about the trip, so I didn't get any sleep Friday night. I left around 5am Saturday morning to catch a train to the airport, where I caught a plane to LA.
Kenny (Troma guy) picked me up at the airport, and I spent Saturday meeting with all the other Troma guys. I hung out with Kenny, Spitz and Mark for most of the weekend. We also hung out with former Playmate of the Year, India Allen.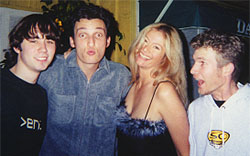 On Sunday, I met up with Scott Weaver and Jen Goodridge. Scott's a cool musician who is making some full-length songs for potential future projects (such as a newgrounds DVD or Pico movie). You can check out his site, papabyrd.com. Jen formerly worked for den.net (now out of business), back when they wanted to buy newgrounds and potentially molest me (there was a big scandal concerning young male interns).
We shopped at Melrose during the day. That night we went to that Chinese theatre where everyone sticks their hands in the cement. After that, it was dinner with the Troma guys!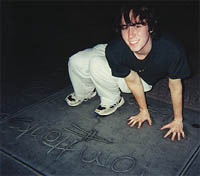 Monday was where the real fun began! I spent the day at The Playboy Mansion, where I got my eyes ripped out by The Noxious Offender! There were naked Playmates and blood! Definitely a newgrounds kind of event!
There was a live webcast of the whole thing, including a 1 hour lesbian scene in The Grotto. I was seen standing behind Hugh Heffner at one point during the webcast, although I didn't actually talk to him. Trey Parker and Matt Stone were expected to show up, but didn't make it. Hopefully I'll get to meet them some other time!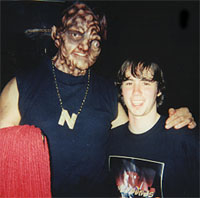 After the shoot, I got to have dinner with Lloyd Kaufman, co-founder of Troma. We discussed the potential Pico movie, and all that good stuff. On Tuesday, I hung out some at the Troma office in LA and then caught my flight home. It was a great time. Troma is the coolest bunch of guys ever!
Special thanks go out to Andrew Lerner, the head of Troma's web team. Thanks, Andrew!!!