We had a lot of preparation to do before Comic-Con. April and I individually "bagged and tagged" over 200 t-shirts. That's nothing compared to what the rest of the guys had to do, though! We had an entire booth to build.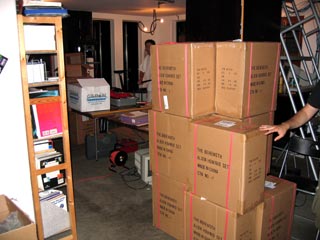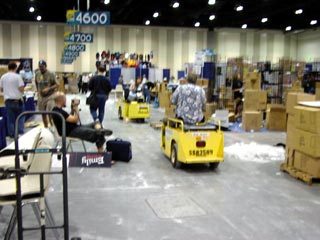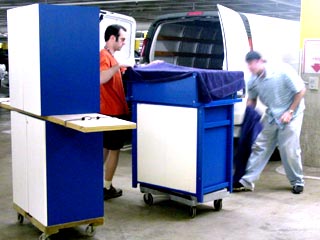 Comic-con setup was a madhouse, with forklifts moving crates full of merchandise to various booths. Josh, Chip and Emil came in early on Tuesday to begin booth setup (the doors opened Thursday). Josh (who helped code AH) is the guy wearing orange, Emil (who rigorously tests the game) is wearing a hat and Chip (who also codes) is wearing pink.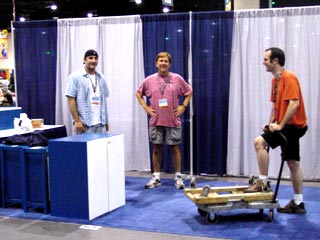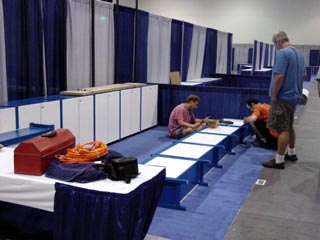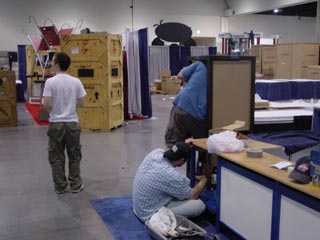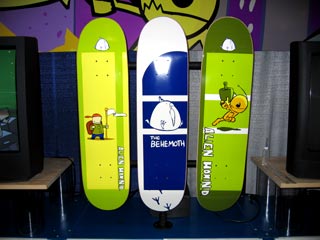 The merchandise was proudly put out on display! The Alien Hominid shirts included green and pink t-shirts featuring the alien, a red "Super Soviet Missile Mastar" shirt, a blue "fork" shirt (the shirt worn by kids in Alien Hominid) as well as black, blue and green Newgrounds shirts. We were also selling skateboard decks and figurines!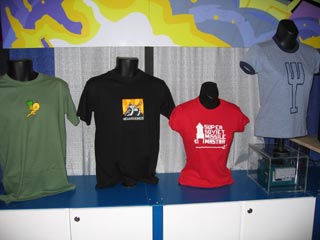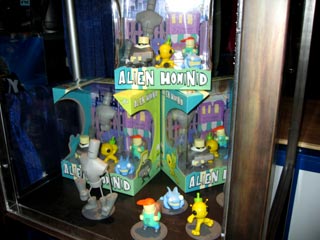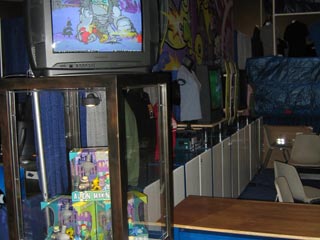 The booth looked great, with a giant piece of art by Dan. Fans started coming by as soon as the doors opened! Many of them came specifically to get a first look at the game!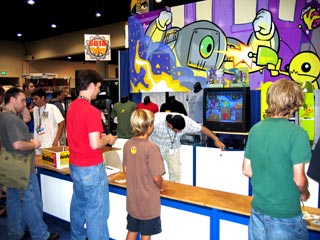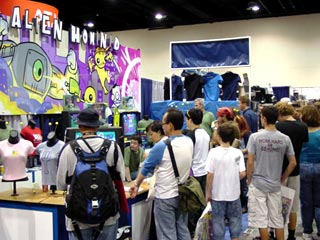 As the convention progressed, the booth became increasingly popular. It was a bit overwhelming to try eating lunch while answering questions and writing out receipts for merchandise!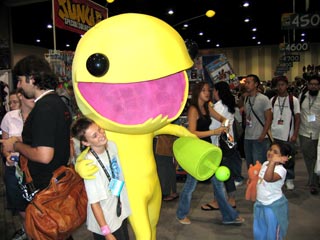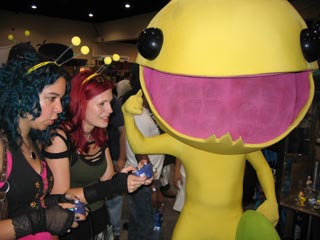 Emil's friend Billy wore the alien costume, and hammed it up for the fans. People crowded around to get their picture taken with him!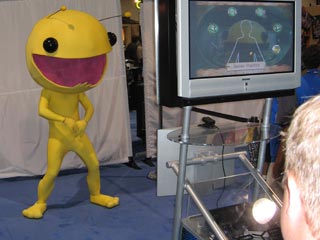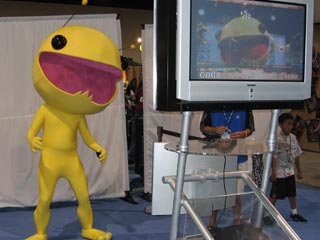 The Hominid takes a stab at Eye Toy. Notice how he doesn't quite fit into the alignment zone!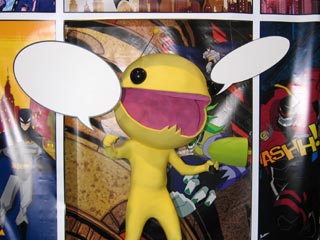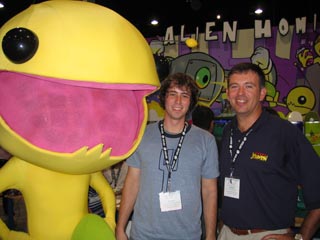 Coincidentally, my second uncle Charles Thomas Fulp was in attendance. He recently launched his own self-published comic under the label Fulp Fiction... Is that crazy or what? We had never met before. Fulp's aren't traditionally involved in the entertainment business - it is just a huge coincidence that our paths have crossed this way.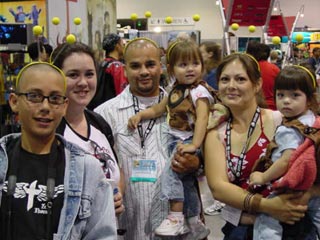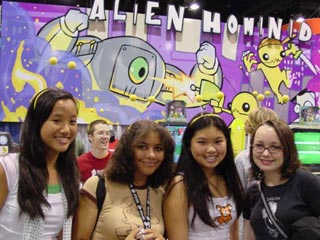 We gave out 5,000 yellow antennas at the convention. You could see them everywhere you went! Some lady was even wearing her antennas at the hotel, the day after Comic-con was over!
I learned one important lesson at Comic-con; I need to switch up my facial expression when I'm posing for pictures. I now give you:
The Many Faces of Tom (with some Dan sprinkled about)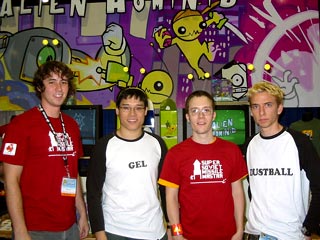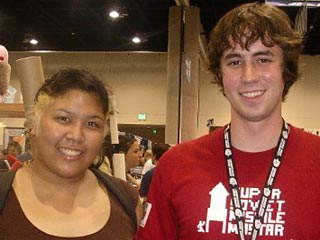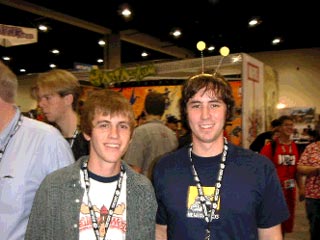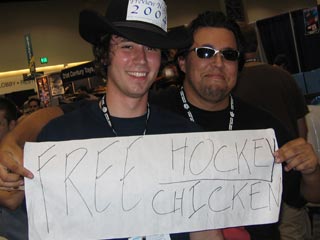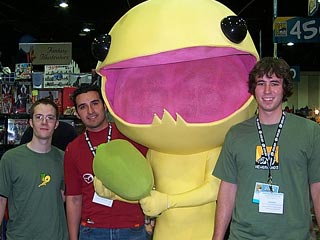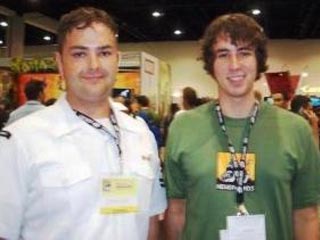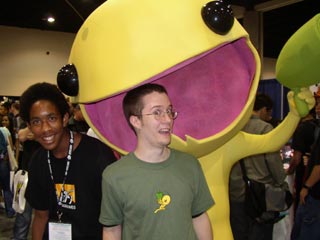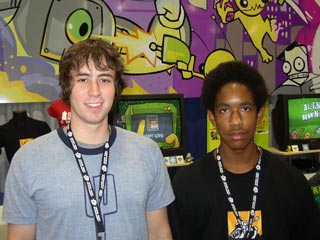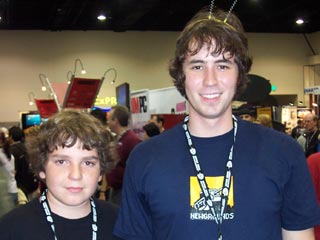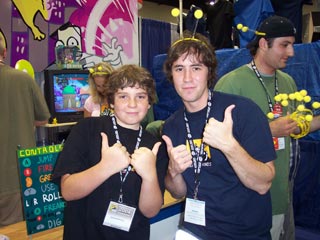 Yeah, it's embarassing. I would have more photos with fans, but I am relying on them to email me their pics, because they aren't on my camera. I'm scared I have the same smile in every single one, though.
The convention ended on Sunday and it was time to clean up! We managed to pack our booth into the vans in just under two hours. Then it was off to the storage facility to put everything away until next year!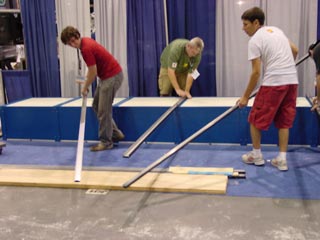 I'm such a camera whore!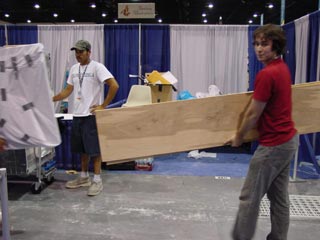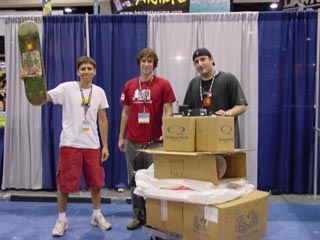 Thanks for stopping by!