| | |
| --- | --- |
| | Cat of the Week (05/18/00): The PalmCat 9L |
---
Bryan Tolmachoff writes, "The PalmCat 9L (9 "Lives") keeps me organized and on time! He includes a docking station so that I can synchronize him to my CPU clock and download all the recent news. Best of all, he's small enough to fit into my pocket!"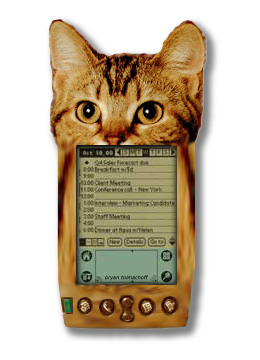 Send us pictures of your cyberntic-enhanced felines!
[Main Menu] [Mission] [R&D] [Testimonies] [Contact Us] [<!a href="contact.html">Cat of the Week<!/a>]

©1997-2000 Cat Dynamics Inc.
Site design by newgrounds.