| | |
| --- | --- |
| | Cat of the Week (03/30/00): Koki |
---
The Complin Family writes: "When Koki's head got caught in the catdoor and mauled by a neighborhood dog, we were surprised she survived. She unfortunately had no skin left on her face and her ears were dangling by a thin piece of skin. Thanks to CD though, we surgically implanted a head that obviously wasn't being used to her body. Now, no dog would dare approach her and we had the heart to spay her. Thanks CD and thanks to the head donner. Koki can now lick her stitchings with no problem. :)"
Funny... she was a siamese, but now she looks more like a tomcat!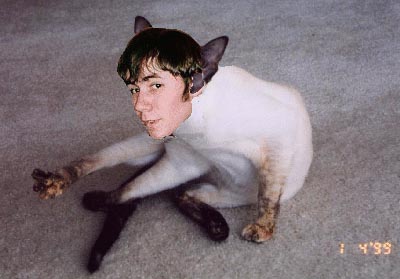 Send us pictures of your cyberntic-enhanced felines!
[Main Menu] [Mission] [R&D] [Testimonies] [Contact Us] [Cat of the Week]

©1997-2000 Cat Dynamics Inc.
Site design by newgrounds.