| | |
| --- | --- |
| | Cat of the Week (02/17/00): Tequilla |
---
MaFt writes: Tequila was, one day, being her usual frisky self and ended up playing in the road. Unfortunately for Tequila, Fords also play in the road...
Tequila was left completely limbless so I set about reviving her active life.
With her new limbs Tequila can not only carry on being as frisky as ever, but she can also stand upright (much to the envy of neighbouring cats) and jump incredible heights too.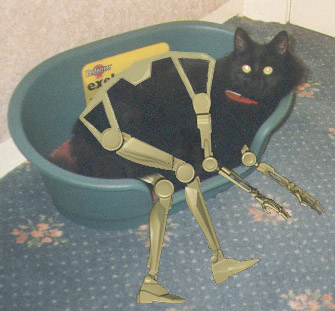 Send us pictures of your cyberntic-enhanced felines!
[Main Menu] [Mission] [R&D] [Testimonies] [Contact Us] [Cat of the Week]

©1997-2000 Cat Dynamics Inc.
Site design by newgrounds.